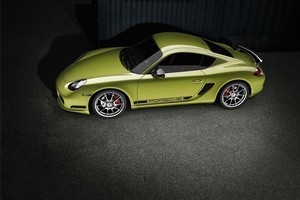 What makes the Porsche Cayman R so special? It has a little more power and a lot less weight than the standard Cayman S, making it a more driver-focused, track-day-friendly machine. According to the beautiful hardcover brochure that came with our test car, the essence of the Cayman R's character goes something like this: "No radio. No air-conditioning system. No cupholders."
Equipment fitted to the New Zealand-specification Cayman R, however: a really good stereo system with Bluetooth and iPod functionality, climate-control air conditioning and, on our car, elaborate pop-out cupholders (a no-cost addition). Clearly, even the Kiwi Porsche buyers who like to go hardcore still like their comfort. So while the factory has worked hard to take 55kg out of the Cayman for the R version, New Zealand has stacked 15kg back on. Happens even on the best diets, you know.
True, the extra luxury/bulk takes some of the bite out of the Cayman R for the true enthusiast. But the model's benefits are still obvious: the 3.4-litre mid-mounted flat-six engine gains 8kW to make 243kW, the body boasts aluminium doors, sports seats, the so-called "super-lightweight" 19-inch alloys from the Boxster Spyder and suspension that's 20mm lower than the Cayman S.
That suspension is pretty stiff, but were you expecting anything less from a track-day car? That and the barking flat-six behind your ears (less sound deadening, I'm guessing) gives the Cayman R an aura of raw appeal that's not quite there in the standard model.
The beauty of the Cayman is that it's compact enough to enjoy on the best back roads you can find, yet powerful and agile enough to give you mini-supercar thrills. The nose goes exactly where you point it into a corner, the whole car stays planted under power and it won't take up the whole road if you make a momentary error. The R-version simply turns up the power and ability another couple of notches. The Cayman R never feels nervous, but I'd also never push it right to the edge except on a racetrack: mid-engined cars give you a worryingly brief grace period between oversteer and over-there-backwards.
If this was my stripped-down special I'd be specifying the six-speed manual transmission - it's just that kind of car and you save another 25kg. But I'll take the point that what you lose in driver involvement with the pseudo-automatic dual-clutch PDK gearbox, you gain in performance and fast shift times. It's quicker to 100km/h than the manual: 4.9 seconds, or just 4.7 if you have the $2560 Sport Chrono Plus package fitted to our car. Yet it's also more economical: 9.3 litres per 100km compared with 9.7 for the three-pedal version.
The Cayman has never fallen short on handling poise or cornering speed. In fact, on chassis balance it's pretty hard to fault. But what I have sometimes felt is that the driving experience lacks personality, especially compared with the rear-engined 911. Seemingly small changes for the Cayman R go a long way towards rectifying that.
We're doing well on price, too. Less weight always means more cost in performance cars: the Cayman R is about 10 per cent more expensive than the S version in Europe.
You'd expect putting some big-ticket equipment back into the car would add even more to the window sticker, but in fact New Zealand's fully loaded Cayman R is $167,500 as a manual or $173,500 in PDK form - more like an 8 per cent increase. So it's still $50,000 less than the cheapest 911 Carrera, which means you can buy yourself a Skoda Yeti to run around in. Light, fantastic.
Alternatives
Audi TT RS $137,900
BMW M3 $173,700
Mercedes-Benz SLK 55 AMG $180,000
Mini John Cooper Works $58,500
Porsche Boxster Spyder $149,900
Where did Porsche's R-badge begin?
The 911 R of 1967 was created for GT racing and was powered by the 157kW engine from the 906 racing car. It was hard to pick from the standard 911 appearance-wise but featured glass fibre construction for the bumpers, doors, bonnet and engine cover. Extraneous items were also removed from the interior. In total, the R package removed about 225kg from the standard vehicle.
Only 20 examples of the original 911 R were built, meaning Porsche could not race it in the Sports Car Class (rules dictated a run of at least 500 units); but it was raced successfully in the Prototype class. A later version, the 911 T/R, was produced in sufficient numbers to compete more widely. The rest is history, with the 911 having a stellar career on track since then.
The bottom line:
Track-inspired versions of road cars are a fine tradition at Porsche. The Cayman R is less extreme than most, but still does a stunning job of injecting more exclusivity and excitement into this mid-engined model.