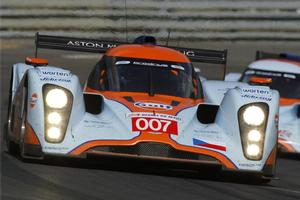 In the elegant surroundings of the AFC in Paris yesterday, FIA President, Jean Todt made a major mark in the first year of his presidency by announcing the launch of the FIA GT1 World Championship.
The new world championship will sit alongside F1, WRC and WTTC as the FIA's fourth fully accredited world championship.
Todt, appearing alongside championship promoter Stephan Ratel, was keen to acknowledge the work that Ratel's SRO Motorsport Group had put in to make the championship happen.
"You must be very brave to decide to become the promoter of such a championship right now. In terms of FIA World Championships, we have Formula One, WRC, WTCC and now FIA GT1 World Championship.
"I like the way the 10 GT1 World Championship races are divided geographically. It is a good balance. The championship also features very talented drivers and six great brands.
I'm sure it will be very spectacular. You can be sure that me as president of the FIA and my colleagues at the FIA will do everything to ensure that you succeed."
Six manufacturers and twelve teams will line-up to contest the inaugural season, Aston Martin, Corvette, Ford, Lamborghini, Maserati and Nissan will each supply two private teams with two cars, making up a grid.of 24 GT1 super-cars. The series will be the FIA's only world championship aimed soley at private teams, a move designed to keep control of costs.
"I take this as something more than an achievement, said Ratel, "I take this as the start of something. We will have two one hour races over each race weekend, and we do something that is quite alien to European racing something more akin to American racing, using very scientific FIA methods, we balance the performance of the cars. This helps keep a lid on costs and also means that the cars compete with an equal performance which adds to a great show."
"We will go racing at some of the greatest circuits for drivers in the world, including Silverstone, Nurburgring, Spa, Interlagos and San Luis, and we aim to bring GT racing back to where it belongs."
It makes you wonder why there hasn't always been a world championship for cars like these.
The season gets under way at the Yas Marina on April 17.
- THE INDEPENDENT