Eight years ago the Labour Government closed seven small rural schools in Northland. Alan Perrott and photographer Steven McNicholl return to find out what happened to the children and adults left behind.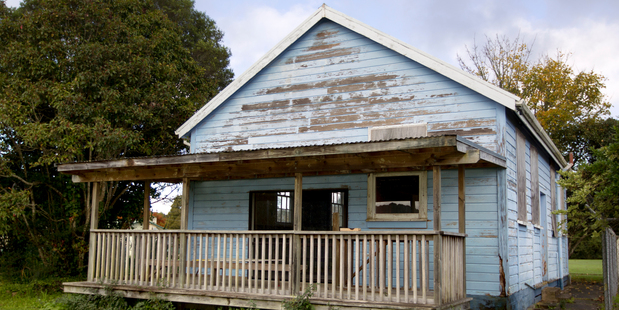 For a moment the singing managed to drown out the swish of the falling axe.
Staff at Towai School had added their voices to the children singing Happy Birthday to one of their mates.
But as the final hip-hip hooray faded they remembered their 106-year-old school would be dead before his next big day rolled round.
It was 2004 and Labour's education minister Trevor Mallard was culling fading schools so money paying for empty classrooms and unused playgrounds could instead go into teachers and teaching aides.
He'd already completed 10 regional network reviews, including one in his hometown of Wainuiomata, and identified almost 100 schools for closure.
Eighteen Northland schools were being scrutinised, with seven set to disappear. If all went to plan about $3.6 million was expected to be freed up.
Towai's long-time principal Brent Davies knew their prospects were bleak. His roll was down to 17 and survival was unlikely given there were two bigger schools within 10 minutes' drive. So he'd all but rolled over in the hope their demise might secure the future of their neighbours. Besides, his buildings were solid kauri and the grounds were well tended. They even boasted an accidental copse of pines they'd hoped to sell as Christmas trees.
Surely someone could put all that to good use?
Returning eight years later, we find Towai School is a vandalised ruin. Windows are smashed, rooms ransacked, walls graffitied and the floors treated as a toilet.
On a return trip a few weeks later, the buildings have been boarded up and the fields mowed, but it remains a depressing sight.
"I just can't come here anymore," says Davies when we meet him at the site. "Everything about this is just heartbreaking... it's just been left for ruins. I mean people might say working here was only a job, but this place was my life, and after all that effort we didn't even get a letter from the ministry saying thank you."
After 21 years at the school he couldn't just walk away, so he maintained a vigil until the escalating damage became too much to stomach. The decay was also demoralising for the locals, especially families boasting ex-pupils going all the way back to their great-grandparents.
They talk of social consequences as well.
Towai has been slowly disappearing ever since State Highway 1 ended its importance as a stop on the northern train line. The post office eventually made way for a tearoom, then the garage closed.
The 77-year-old manager of the Towai Hotel is considering retirement and there is little sign of a successor, not when his daily rush is a few locals who pop in to watch Deal Or No Deal. He ended his Sky subscription because patronage didn't make it worthwhile.
If there was a hub, it was the local school.
The whole district showed up for the galas, calf days, and annual fishing competitions. Now an already shrinking community has been divided between the schools at Hukerenui and Maromaku.
"I'd say there is no community here anymore," says Sandra Wallace. "The spirit has been fractured and that's really sad... it's hard to put into words. We fought really hard, but it didn't mean anything in the end. I can see how it looked practical on paper to the Government, but this was a strong school and as the fifth generation of my family to go there I would have loved to see my grandchildren go as well."
The school's present state has only worsened the loss, especially if Davies is right and the government money that has gone into security and maintenance would have kept the school open. In 2007, the cost of looking after the site was reportedly $4066 a month.
For his part Mallard says he's "pissed off quite frankly" by what has and hasn't happened.
He dismisses the sentimentality of keeping flagging schools open simply because they're old, but accepts it's fair for locals to label the follow-on from their intervention a failure.
Especially as he personified the process. Towai School even flew a plastic mallard duck from their flag pole and hung another at their goodbye party. In future, Mallard says, any reviews must start with a community buy-in and be run by someone independent from any political party.
Otherwise he fails to understand the time it's taking to dispose of the schools: "I expected to would take a year or a little more, so people are absolutely right that it's taken far too long and been far too expensive."
The school was sold in 2006 for just under $250,000 to Housing New Zealand but its plan to build four low cost homes was stymied by locals, who argued that dropping low income families in the middle of nowhere, kilometres from public transport, shopping or support was crazy.
Housing New Zealand says it will continue maintaining the site but has no plans to develop it. It is talking to the Office of Treaty Settlements about its future ownership.
It's a remarkably similar story to what happened to Helena Bay School on the Russell Peninsula.
Once a place that rang with laughter within a beautiful coastal setting - Russian billionaire Alexander Abramov's $40 million mansion is being built in the bay next door - this historic school is now an eyesore.
Its last caretaker, Barry Mills, can count the cost.
Not only did the review kill the campsite they'd run on the school grounds (which earned about $20,000 per year, meaning students didn't pay fees), thieves have since made off with a new $10,000 water purification system, along with lawn mowers, fridges, washing machines, hot water cylinders and playground equipment. Walls were smashed to get at the copper wiring. Then the leaks began, the guttering failed, and rooms turned to mould.
"I mean this was an expensive public facility paid for with our taxes. For all this to be allowed to happen is just disgusting," says Mills.
To make matters worse, Whangaruru School - an amalgamation of the Helena Bay, Ngaiotonga and Punaruku schools - suffered from poor ERO reports and a plummeting roll, which led to the appointment of a limited statutory manager and the resignation of principal Petina Stone.
Locals blame the forced sheeting together of communities that had been fighting to save their own schools. There were even threats of a lawsuit over the appointment of Stone, the former Helena Bay principal.
Mallard says his officials factored the potential for such outcomes into their decision process and rethought some closures when they realised the resulting schools would struggle to find a workable board of trustees.
Meanwhile, Helena Bay remains under the control of the Office of Treaty Settlements, which continues paying for basic maintenance but has no idea how long it will take for the school's future to be sorted out.
One Ngati Wai whanau has stepped up. A group of about 30 volunteers have a temporary lease to run a Maori language and culture class there on weekends. Funding comes from weekly donations from associated families and they are being assisted materially by North Tec.
It is difficult as most of the school is unusable, and the one serviceable classroom has a large leak and is damp. Several adults have moved on to the site to deter further vandalism and are renting the old schoolhouse for $180 a week despite smashed walls and the lack of hot water or a working stove.
Margaret Hoani, who left her teaching job in Auckland to help out, says they have already spent more than $9000 of their own money on repairs, but she estimates they will need a further $50,000 to make the site usable. Though they have lodged a claim with the OTS, there are several competing groups battling for rights to this expensive piece of real estate.
At least, their issues haven't been as disruptive as those over at Orauta School.
Orauta sits within Ngati Hine country, an iwi hit hard by the review with four schools set to close. But tensions skyrocketed when Ken Brown became the unofficial school spokesman.
Unwilling to accept the review decision, he led a faction that tried to keep the school open after its closure and at one point barricaded himself inside one of the buildings.
As a result the Ministry of Education has spent around $500,000 for on-site security on top of about $15,000 a month for maintenance.
Still, the school has survived remarkably well, with only the odd broken window and tag to show for the problems.
The reason why became evident when we visited and were twice approached by locals asking what we were doing.
One was Rose Reihana, daughter of the site's last Maori owner.
She lives in the schoolhouse - after reopening the boarded windows and clearing out the wildlife - and despite her age has seen off several potential vandals.
She was living in Australia when the network reviewers arrived, but flew back and forth for negotiations, only to fall ill when they turned nasty. Now she is secretary of a trust being established to reclaim the school.
Reihana says this is exactly what her father predicted. He rebuffed all government attempts to purchase his land, saying the moment money changed hands, any say over its future was gone. Instead it was claimed under the Public Works Act.
Reihana rejects any suggestion of compensation, saying their people received education because of the school and that is enough. And the trust looks increasingly likely to win back control of the school.
A spokesman for the Ministry of Education says a report will be sent to Land Information New Zealand in August seeking approval to offer the land back, at no cost, to the new trust for community use. The process is hoped to be completed by December.
"So it's just a timing thing now," says Reihana, "because the right people with the right heart are in place. The whole valley has been hurting over this but they are now excited about what's going to happen. We just need to bring the kids back, that's what needs to happen, and when it does it'll be big and it'll be good."
Another Ngati Hine hinterland school, Motatau, avoided its death sentence after organising an independent review, which went against the Government.
You won't find much celebration about it though. Locals remain upset over the decline of what was once the jewel in the Ngati Hine crown, Matawaia. In the 70s it was one of the few spots in the country where you would hear Maori commonly spoken as a first language. The school, where they preserved their particular dialect, was lost in the review.
Pita Tipene, who works on several Ngati Hine trusts and was part of the Motatau campaign, puts the differing results down to leadership; Matawaia lost key people while Motatau gained them. But he remains hugely regretful about the way in which the lengthy process pitted community against community and left issues still requiring resolution.
Still, this remote community now has a "special character" school focused on their own distinct culture, its marae is blooming, and families are returning.
Principal Noelene Paurini arrived at the school more than four years ago, "so I got to see both sides of fence. I'd say there was a lot of mistrust and anger toward the Ministry of Education over what happened here and there seemed to be this feeling of disdain coming from the ministry toward Motatau because they'd won their case, so to speak. I had to try to manage those feelings on both sides and it wasn't easy at all, but I think it'd be fair to say we've brought about a lot of positive change."
If she has any complaint it's that she felt the ministry could have supported her more when she set about rebuilding the school. So she is understandably proud that the school will still get to celebrate its centenary in two years' time. "There is such a positive energy here now, just knowing that our fundamental values, tikanga and te reo are being kept alive for new generations. At some point more families will return here and we know there will always be people here to teach them."
And when they do, you know there will be plenty of singing.