These classic cakes can be cooked in mini cake tins so you can have one all to yourself.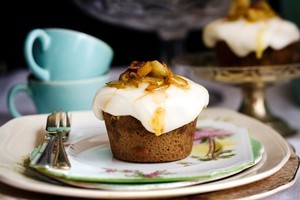 Eating cake is always a delight, but can seem even more of a treat when you can have a petite one all to yourself. If it is beautifully iced and topped with delicious syrups and fruit, then the pleasure is even greater.
Any regular cake recipe can be used and then divided between 12 mini cake tins, papers or even muffin trays. If you do use a muffin tray, as soon as the cakes have slightly cooled tip them upside down so the tops flatten and become the bottom of the cakes. This gives you a daintier cake and, more importantly, a flat surface to ice and decorate.
Today we have three classic cake recipes: chocolate, madeira and coconut, as well as three decadent icings, three different fruits to use as toppings, and a luscious cardamom and vanilla syrup to drizzle over the pears.
Use the best quality dark chocolate you can for the chocolate recipe - both in the cake and in the ganache for a rich flavour and glossy icing.
At this time of the year, you may want to use the imported fresh plums which are available but don't have the best flavour. I prefer to use tinned, locally-grown Black Doris - these have a fantastic tartness, plus are already soaking in a lovely liquid which can be reduced in a pan for 10 minutes to create a thick syrup to drizzle over each cake.
Madeira cake flavoured with lemon zest is an uncomplicated cake with a lovely sense of nostalgia attached. This is a recipe not easy to find in recent cookbooks - it's more likely to be found in a worn-out copy of the Edmonds Cookery Book. When I trialled this recipe, I found a book from the 1970s where the page was dusted with flour and lemon zest stains, obviously from the original owner.
Just the smell of a madeira cake in the oven can bring back memories of childhood. Top each cake with cream cheese icing and slices of pear simmered in a little butter, vanilla and white sugar to take this simple cake to a whole new level.
The third recipe is a coconut cake made with a little coconut cream and dessicated coconut mixed in with the flour, which works to create a light consistency and add texture. Top the cakes with vanilla icing and small pieces of grilled fresh pineapple before drizzling with a cardamom and vanilla syrup. Serve with a dish of softly whipped cream or some thick Greek-style yoghurt and a lovely warming pot of tea.
Chef's tip
If you are not using cake papers, make sure you grease the tins or trays thoroughly with either a little melted butter or an oil spray and leave for five minutes before putting the mixture in. It is so disappointing to try removing cakes that have stuck.