Treat your friends to a long, leisurely lunch to beat the cold weather blues.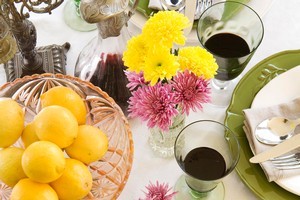 What better way to enjoy a crisp winter's weekend than to invite some of your favourite people over and spoil them with delicious food lasting all afternoon?
A roaring fire, plenty of wine, music, laughter and games will ensure a relaxed and leisurely affair.
Start the day before by making a terrine. It doesn't take long to prepare but make sure you take time to source the best ingredients you can - ideally free-range pork and liver, or at least buy it from a reputable butcher. Fresh herbs and spices add flavour to the mix with a little wine. Wrap it in the tastiest pancetta or streaky bacon you can lay your hands on then bake slowly in a bain-marie - you can forget all about it till the timer goes off.
Terrines are best served with a selection of chutneys, pickles, olives, cheese and cornichons - maybe a pickled onion or two if you fancy. Don't forget plenty of crusty bread and butter as well.
For the spaghetti any variety can be used but spelt is a healthier option and provides a pleasing chewiness. It will need to be cooked for a few minutes longer to achieve the ideal "al dente" texture.
Quickly boil some broad beans then peel and add to the pasta with slices of chorizo and currants. All you then need to do is spoon over ricotta with a generous amount of seasoning and olive oil and a little lemon.
To finish the meal and freshen the palate, lemon custards are delicious and straightforward to make - and equally easy to pop into the fridge the night before.
Just make sure they have had some time at room temperature - they should still be cool but not "fridgey cold" - before serving with divinely fragrant lavender shortbread. Don't take shortcuts with the shortbread - you need butter, no substitute provides that quintessential crumbly shortness of texture and flavour.