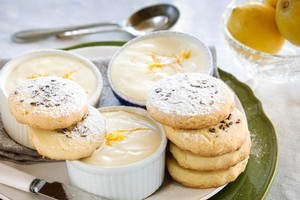 Serves 4
Shortbread
1 Tbs cornflour
25g icing sugar
1 cup plain flour
125g butter, cut into small cubes
dried lavender - available at gourmet foodstores
Lemon custards
2 tsp gelatine
2 egg yolks
1 Tbs caster sugar
1/2 cup milk
finely grated zest of one lemon
1/2 cup cream, whipped
1 To make the shortbread; sieve the dry ingredients together. Using your fingertips, rub in the butter then knead very lightly to form a soft, smooth dough.
2 Preheat oven to 150C. Cut into rounds and place on a greased or lined baking tray. Sprinkle with lavender and press lightly.
3 Bake for 30 minutes or until light golden. Carefully remove to a rack to cool.
4 To make the custards, dissolve the gelatine in 2 tablespoons of boiling water.
5 Beat the egg yolks and sugar until pale. Bring milk to boiling point then remove from heat and whisk into the eggs.
6 Return the mixture to a heavy based saucepan and heat gently while stirring with a wooden spoon until the custard begins to thicken. Remove from the heat and fold in the lemon, gelatine and cream. Spoon into ramekins and refrigerate for 2 hours. Serve with the shortbread.