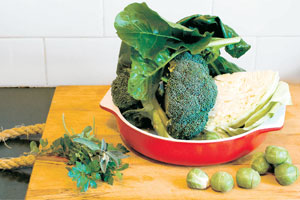 Winter greens are such a bountiful picture of health, you feel a sense of vitality just looking at them. This week I am using broccoli, silverbeet, brussels sprouts - seemingly the world's least favourite food - and spinach. They're perhaps not the most glamorous of vegetables, but are delicious whipped up into these salads.
There's no need to harp on about vitamin levels and "super food" status, everybody knows eating your greens is good for you, especially for fending off those winter bugs lurking about.
Today I have paired the everyday vegetables with ingredients to give them a spark.
I love silverbeet simply wilted in a frying pan. Cut out tough stalks, chop up the crinkly leaves then add a splosh of rich extra virgin olive oil and stir around in a hot pan with a liberal amount of black pepper and flaky salt. Add some farro (a rustic Italian wheatlike grain, available at Sabato and speciality stores), barley or brown rice, creamy blue cheese and a handful of toasted crunchy pumpkin seeds and you have a satisfying plateful of food, good enough as a supper all on its own.
Everywhere I go people of all ages turn up their noses at brussels sprouts. Overcooking is to blame. They are sweet little beauties when handled sensitively; roasting for 20 minutes in walnut oil produces a lovely vegetable with crispy outer leaves and a tender centre. Add some soft roasted garlic and toasted pinenuts, a drizzle of aged balsamic for sweetness and I am hoping you will gain a whole new appreciation for sprouts.
The third recipe uses broccoli cut into small florets and either thrown on to an oven tray and roasted or cooked in a lidded pan until just tender. Add cubes of roasted pumpkin for colour then sprinkle with delicious buttery breadcrumbs
CHEF'S TIP
Buy brussels sprouts that are small and bright green with no yellowing leaves; choose heads of broccoli that are compact and dark and always make sure to wash silverbeet and spinach leaves thoroughly. Chard, often seen on cafe and restaurant menus, is another type of silverbeet.