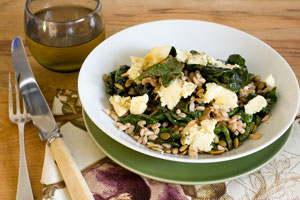 Serves 4
1 cup farro
1/2 cup pumpkin seeds
12 large silverbeet leaves
3 Tbs extra virgin olive oil
1 clove garlic
150g blue cheese
Freshly ground black pepper and flaky sea salt
Balsamic vinegar
1. Boil the farro in plenty of salted water until tender, drain. Heat a pan and toast the pumpkin seeds over a gentle heat for 10 minutes or until they have puffed up and turned pale brown, set aside.
2. Cut any tough ends off the silverbeet stalks and discard. Roughly chop the leaves. Heat the oil in a large frypan. Finely chop the garlic and add to the oil with the leaves. Sauté for 5 minutes until the leaves have wilted.
3. Return the farro to the pan to heat through. Season and plate, topping each dish with blue cheese and pumpkin seeds before adding a drizzle of good quality aged balsamic vinegar.