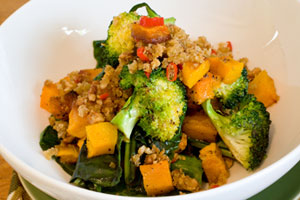 Serves 4
2 cups diced pumpkin
Olive oil
1 small head of broccoli
Salt and freshly ground black pepper
Zest of one small lemon
1 cup fresh breadcrumbs
1 Tbs walnuts
1/2 tsp dried chilli
1 Tbs butter
4 handfuls of spinach leaves, or one bag of baby leaves
1. Preheat oven to 200C. Toss the pumpkin in olive oil, season and cook for 15 minutes.
2. Cut the broccoli into small florets, toss in olive oil, season and add to the pumpkin. Cook for a further 15 minutes.
3. Combine the lemon, breadcrumbs, finely chopped walnuts and chilli, season. Heat a frypan, add the butter and when hot cook the crumbs until golden and toasted, keep warm.
4. In a clean pan, heat an extra tablespoon of oil then add the spinach leaves. Season and stir over a high heat for 2-3 minutes or until wilted.
5. Serve the pumpkin, broccoli and spinach in warm bowls with the crumbs spooned over, drizzled with any leftover oil.