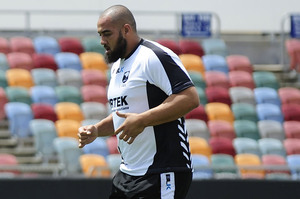 Sam Kasiano suffers from crippling shyness but his playing speaks for itself
When a new player joins the Kiwis, part of the initiation ritual involves standing at the front of the team bus and singing a song over the PA system.
When Sam Kasiano's turn came, the giant prop just stood there, unable to offer a syllable - let alone a lullaby - for about three minutes.
As teammate Issac Luke put it: "He sort of dropped his balls."
A couple of days later the hulking 22-year-old would be fingered by an Australian tabloid as the player whose loutish comments had been picked up by a Channel Nine news crew covering the Bulldogs' Mad Monday celebrations.
One of those comments - "I want to go and punch you in the face" - was apparently sung in tune to a song from the kids' TV show Barney.
While it's impossible to verify whether Kasiano was the culprit (Kiwis official Tony Kemp brushed it off as idle tabloid speculation) and to whom the comments were directed (the Bulldogs say it was teammate James Graham rather than a female reporter), Kasiano certainly doesn't make a habit of singing in public. Hell, the guy hardly even speaks.
"He's borderline mute," was how one team official put it.
All requests to speak to Kasiano this week in Townsville were rebuffed. His shyness appears to be at an almost crippling level. He never strays far from the life support of Frank Pritchard's company, while his Bulldogs mates close ranks around him at the merest hint of an unwanted conversation with an outsider.
It's behaviour that goes a long way to explaining the unrelenting silence from Kasiano that accompanied the tug of war between Queensland and the Kiwis for the NRL prop of the year's representative services.
Remarkably skilled and deft of touch for a man of his 130kg, Kasiano appears to produce most of his expression on the footy field.
When pressed on where his loyalties lay, it seems likely he simply couldn't rouse himself to come up with an answer, or if he could he certainly couldn't come to terms with how best to communicate it.
"He talks," says chirpy Manly playmaker Kieran Foran. "He's just pretty shy around the media. Look, he's a great fella. He likes to have a laugh and a chat.
"But he is a monster. Every time I stand next to him I just stare at him. He is huge."
Luke sees a lot of his younger self in Kasiano.
"He's placid as," says Luke. "Like every Islander. I don't know an Islander who is out there. Every Islander I know is really quiet.
"If he's with Frank he's not bad. But if he is in front of all the boys and they single him out, he sort of drops his balls. But nah, he's good.
"Even I have a problem talking. I am starting to get there but to start with I had a problem talking with people. When I first got here obviously I was a mischief and a little s**t, but I wasn't one to speak up."
The influence of Pritchard - another Kiwi who would rather swim with boxed jellyfish that chat with a reporter - appears to have been the key to Kasiano rejecting Mal Meninga's overtures.
"Frank's a big brother to all of us," Luke says.
Veteran forward Adam Blair is in no doubt Kasiano has made the right decision to enter a Kiwis fold that clearly puts a premium on protecting someone who comes across as essentially a big kid.
"Once you step into camp you are part of the family straight away," said Tigers forward Blair.
"We are quite lucky to have those Bulldogs players who were obviously big influences on his decision (to join the Kiwis)," said Blair.
"If we didn't have those guys, he would have been wanting to go somewhere else. But now that he has come into camp I think it has opened his eyes to some bigger pictures."