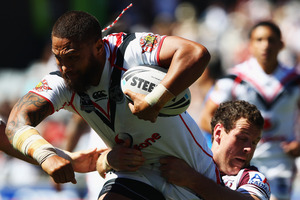 It was starting to look like Manu Vatuvei had lost his mojo - but he avoided his worst tryscoring drought for eight years last night.
We had been seeing some unusual numbers for 'The Beast' of late. Before last night, his last try came against the Titans back in round four.
Failure to dot down against the Roosters would have meant six consecutive tryless games - his longest drought since his first year in the NRL back in 2004.
Fortunately, his fifth tackle catch and touchdown to decide the game last night got him back on track and pushed him closer to a record 100 tries for the Warriors.
Since 2004, he has been remarkably consistent and his tally of 94 tries in 142 matches puts him in the top five of current NRL players for try-scoring strike rates, behind only Brett Stewart, Akuila Uate, Ben Barba and Brett Morris.
He feels his drought had been partly a tribute to his reputation, as he is regularly surrounded whenever he is in possession and partly because the ball just hasn't been bouncing his way.
"I am still trying to do my best to score or set someone else up. Lately, on the high balls, they take me out of the game. It is harder for me go after the ball when someone is blocking me," Vatuvei told the Herald on Sunday.
He wasn't blocked last night though for James Maloney's last-ditch kick after a passing error from dummy half came up trumps.
His confidence seems intact. It helps that he is almost constantly in the match, unlike wingers of yesteryear shivering on the sidelines, waiting for a finishing opportunity.
Barely an attacking set goes by when he is not propelling his huge frame into the line and often he will complete two carries of the six.
He has averaged over 108 running metres per game (second only to Ben Matulino at the Warriors) and has already accumulated 34 tackle breaks in 2012.
"When I get involved, I feel more confident," says Vatuvei.
The 26-year-old winger concedes he made a tepid start to 2012, particularly hampered by handling errors.
"I had a few things I had to work on, especially the grip on the ball," says Vatuvei. "There are a few guys trying to target that now and trying to get me off my game."
Vatuvei hits the line at full speed and often attracts four or five defenders, at least one of whom seems solely intent on jolting the ball free, by fair means or foul. His reputation for greasy palms can precede him, meaning that referees often give the benefit of the doubt to the defenders, even when the ball gets violently propelled from the tackle.
"Often they are surrounding me and one of them will have their hand on the ball," says Vatuvei. "The referee might not see it and it comes down to me having a good grip on the ball."
His charges have become legendary at Mt Smart Stadium, as he hits the defensive line with seemingly no regard for self-preservation.
"I kind of like being a [target] and I like the physical nature of everything" says Vatuvei. "There are times when I get hit and knocked around but the best thing I can do is run even harder."
Though would-be tacklers often come off second best, the 112kg Vatuvei is mortal and does feel the hard hits.
"I've been dazed a bit sometimes but I try not to show it," says Vatuvei. "I try to show the toughness in myself and act tough but inside I have been knocked around. Though it does make me motivated to run even harder."