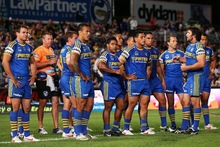 Parramatta prop Tim Mannah admits he was upset at criticism levelled at teammate Chris Sandow this week and says the halfback's fitness isn't an issue for the battling NRL club.
Mannah took exception to claims by legendary Eels halfback Peter Sterling that the new Parramatta No 7 was 4kg to 5kg overweight.
"When you're struggling and things aren't going well, people find everything to pick on," Mannah said. "If it's not Sandow, it's going to be someone else that they'll find something wrong with.
Mannah said Sandow was fit for tomorrow's clash with high-flying Cronulla at Toyota Stadium.
"I've got a lot of respect for Sterlo and he's entitled to say whatever he likes but as a teammate of Chrissy's, I back him 100 per cent to get a job done for us and his fitness isn't an issue for us."
Coach Stephen Kearney, who refused to give an assessment of Sandow's performance at the news conference after last Sunday's 14-6 loss to Newcastle, said critics had to single out somebody and Sandow was the man this week.
"From Chrissy's point of view in terms of form, he's not there by himself ... I don't think anything was said the week before when we played okay," Kearney said. "It's not an issue from our point of view, we need to perform better as a team and that's everyone, not just Chris."
- AAP