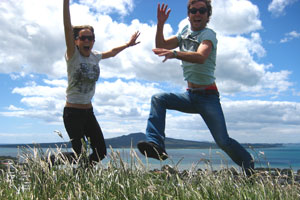 The moment of arrival in a new country is always full of jumbled thoughts and mixed emotions. Immediate practical concerns such as filling in landing cards and finding a taxi mix with long-held mental images and expectations of the country, all of which are intensified by travel related stress and excitement.
For many first time visitors to Wellington, I now see that fear must be an overriding sensation.
We were just about to arrive when this thought occurred to me.
Suddenly I realised that my Finnish girlfriend's all important initial impression of our new home might be negative.
As is normal for the descent into the capital, our plane was shaking and dipping like a geriatric Elvis impersonator.
I was smiling to myself, thinking about some of the treats that awaited me.
Images of family and friends, fish & chips and raspberry-cream lamingtons flashed through my mind. Adding to my excitement was the prospect of finally introducing them all to Sanna.
Still smiling, I noticed she had her face pressed against the little aeroplane window.
"Where's the runway?" she said, as the landing gear clunked into place. "All I can see is water!"
"Don't worry" I said. "The reason you can't see it is because it's so small."
"But how will the plane have room to land?" Sanna said, tightening her grip on my hand.
"It's fine," I assured her.
"We're flying into the wind! We'll be ok."
Now, a few weeks after our bumpy landing, the anticipation is over.
My nervous questions over whether Sanna will like my friends, food and family are all but answered, as are some other questions I have long wondered about.
For example, it seems that the reason that my favourite kiwi food fetishes - raspberry cream lamingtons and L&P to name a few - are not big overseas, is that foreigners don't like them.
For me, in the short term, this was a great result. Everything I bought for Sanna ended up scraped across onto my already loaded plate.
Of course, longer term, there's a downside.
Not only is Sanna against buying such treats in the future, double helpings of creamy, sugary food are nauseatingly regrettable in hindsight.
When it came to real Kiwi kai moana, Sanna was courageous, if not always satisfied.
She appreciated the Paua I risked hypothermia to catch, but has not forgiven me yet for the raw Kina liver. (To be fair, I did not scrape the remaining kina onto my plate.)
More than anything else, she has been impressed by the quality and price of NZ wine. Long may this terrible glut of great wine continue!
Sanna has now enjoyed Wellington on a good day, when the city is at its sunny and blue sparkling best.
Although she did not agree with me that on such days it is the greatest city in the world, she at least believes that at its worst, it is the windiest. (Gale force winds shattered our bus window at Toast Martinborough on the weekend).
She finds the houses freezing, but thinks the electric blanket is the greatest invention ever.
Of course, even more than the wine and wind and the rugged coastline, what I have been most proud to introduce are friends, family and kiwi hospitality.
In Helsinki, when I bought food at the supermarket, the cashiers were usually a little taken aback if I attempted any small talk. They could sometimes even be accused of being cold.
While I prefer this honest silence to the fake and forced conviviality that is the norm in some countries, both of us love how friendly sales people are here.
At our local New World, it is sometimes hard to get away from the check out operators, they are so busy chatting.
It is hard to compete with the welcome that I received from Sanna's friends and family in Finland, but so far everyone here has made a good attempt at it.
Our temporary flatmates - who I call Mum and Dad - have treated the weeks we have been back like a long celebration.
At this stage I'm uncertain whether it is really our company that is driving these festivities or whether it is the excuse to pop bottles of wine at any given moment.
So, although Wellington is not perfect (outside the howling north westerly has just switched to a freezing southerly), it seems the verdict so far is good.
Sanna has a job, we've found a flat, she gets on with my family and friends and loves NZ coffee and wine, if not all of our peculiar delicacies.
So far, the warnings from my friends that it takes six months to acclimatise to the slow pace of life in New Zealand seem unfounded.
The next step is getting her friends and family to join us.
One of the downsides to being back in New Zealand is that I won't be unable to continue to write the Kiwi Abroad blog.
To everyone who has read it or commented on it over the last year (even those who disagreed with my sweeping generalisations or pointed out glaring mistakes) thanks for your support!
- Matt Kennedy-Good
Pictured above: Sanna and I at Mt Victoria in Auckland. Photo / Matt Kennedy-Good