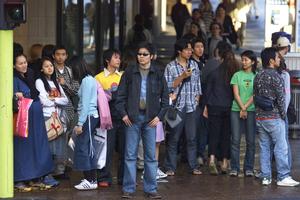 If I was sending my only child thousands of miles across the world to live with people of a different culture, I would want to make damn sure she was safe.
The bland assurances of people who stood to gain financially by my daughter's migration would not be enough.
I would want to see where she was staying and studying, arrange adults who could act as her guardians in my absence and limit the amount of discretionary money she had to spend.
All things my own parents did before I headed off from a Catholic girls' boarding school to the bright lights of Wellington to study journalism as the tender age of 17.
Wellington may as well have been another country back then. Like a lot of the young international students who come to this country to study, I was as dumb as a plank in the ways of the world - naive is perhaps a nicer way to put it.
I had no idea how to cook or to drive or to budget and my experience of booze and boys was minimal - despite my very best efforts to shore up the gaps in my knowledge.
My parents weren't stupid. They knew that casting adrift a young woman, from a sheltered background and blessed with a willing disposition, was a recipe for disaster.
Sensible parents of international students ensure their children are placed with home-stay families they've had checked and vetted.
And sensible parents of international students don't send their kids off with many, many thousands of dollars of play money. Those who do make their children targets and put other students at risk as the predators assume the exception is the rule.
The death of Jiayi Li, or Kiko as she was known, has brought calls for tertiary institutions catering for international students to offer more pastoral care to their pupils.
Manying Ip, a professor of Asian studies at Auckland University, says the kids are too often seen as little more than cash cows - and, indeed, the education of international students is big business for this country. The industry is valued at more than $2 billion annually in foreign exchange earnings and accounts for 45,000 jobs.
Not surprisingly, the Government is looking for ways to increase the number of students and the amount of dollars they bring with them.
But commentators say they must be seen as honoured guests, not just paying customers.
The head of English New Zealand, an umbrella organisation for English language schools, says he doesn't see how the welfare code for students could be made more stringent or how students could be more protected, unless the kids were locked up.
Rob McKay's school provides counselling services in a variety of languages and nurses visit the school offering free health advice. His students are strongly encouraged to stay with a host family, at least for the first year, and he says 99.9 per cent of the time that's what happens.
But, as McKay points out, these are young adults we're talking about. They are perfectly free to make their own choices and decisions and, given that this is the age for risk-taking, some of them will be spectacularly bad choices.
Most kids, Kiwis and the international ones, will get through these dangerous years.
Most young Chinese and Saudis and Vietnamese and Chileans will spend a couple of years in New Zealand and leave fluent in English, albeit with flattened vowels, and with wonderful memories.
The quality English language schools care very much for their students, and New Zealand is no more unsafe than any other country. But when you have young, sheltered kids intoxicated with freedom, there's always the risk they won't make it through.