Some see Twitter's communication role being overtaken by video micro-blogging, but athletes don't look as if they're about to cede the voice they've found through tweeting.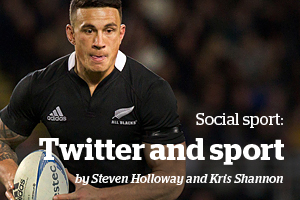 When Usain Bolt sprinted clear of compatriot Yohan Blake to complete an unprecedented second straight Olympic 100m-200m golden double, those fans not jumping for joy were furiously bashing buttons on their phones.
Eighty-thousand tweets were sent reacting to the race. Every minute.
It was the second-most tweeted event of the London Games - trailing the Spice Girls playing at the closing ceremony - and its Twitter traffic compared favourably to other seminal moments of 2012, such as Beyonce and Jay-Z's baby news, Steve Jobs resigning from Apple, and the calendar ticking over to the New Year in Japan. All for a running race that was over 19.32s after it began.
Although New Zealand's population would never produce such a flurry of tweeting, it is worth wondering: What will happen the next time an All White scores a stoppage-time equaliser at a World Cup, or the next time Sonny Bill Williams rips his shirt during a game?
Will Kiwi sport fans be leaping about the local tavern or will they be intently staring at a tiny screen in the palm of their hands?
Herald social media editor Troy Rawhiti-Forbes thinks it will be a combination of the two. Rather than the impersonal nature of electronic communication supplanting the traditional shared spectator experience, Twitter will instead augment a supporter's typical engagement with sport and fellow fans.
"I don't think Twitter will replace the pub - it will be more of an enhancer than a replacement," says Rawhiti-Forbes. "There will be a three-layered effect of a pint, a TV screen and a phone in hand.
"Twitter has turned a sizeable part of the community into one big livingroom with one big couch - it transcends oceans now instead of city lines."
But fans will have to be wary when tweeting after a couple of drinks at the pub, especially with that inimitable ability to instantly contact an athlete anywhere in the globe.
The law has had to move quickly to account for the advent and subsequent explosion of social media, but no longer can odious individuals deliver their invective under the anonymity of the internet.
Several soccer fans in Britain have been arrested in the past year for sending racist tweets, and the "trolls" are increasingly being held accountable for abuse which would see them in trouble if spouted on the street.
New Zealand sport has seen no such cases to this point - though Warriors halfback Shaun Johnson was the target of a racial epithet on Twitter last year - and it is unlikely to become a serious issue here.
Greg Treadwell, who lectures in new media at AUT, says the very nature of New Zealanders means sports fans aren't about to begin broadcasting the level of vitriol seen elsewhere in the world.
"New Zealanders are quite reserved," he says. "Americans are much less self-conscious about being exposed publicly.
"We're probably a bit more private, and that's why it has taken us a little longer to get used to Twitter, because privacy goes out the door when you're seriously involved in social media."
One boxing fan in Britain found exactly that in March, getting more than he bargained for when he branded Curtis Woodhouse a "disgrace" for losing his English light-welterweight title. The culprit had been tweeting abuse to Woodhouse for months and the boxer, so enraged by the latest barb, offered his followers a £1000 ($1857) reward to help track down the guilty party.
His followers obliged and Woodhouse soon showed up on the street where his foe lived, tweeting, "i think the daft lad thought i was joking! where are you keyboard warrior?", before the suddenly contrite troll apologised.
Woodhouse was hailed as a hero online, with the likes of Lennox Lewis and footballer Joey Barton offering their support, but such an extreme example is unlikely to be followed in New Zealand.
"Put them in a situation when it's one-on-one, face-to-face, and are they actually going to say that sort of stuff?" All Blacks halfback Piri Weepu says of his Twitter critics. "But that's the only thing - you can't really take matters into your own hands or go out and find someone that's been bagging you and go, 'come on then, let's have a go'. At some stage you've got to understand you should be the bigger person."
Although they're hardly about to hit the streets and look for fights, the Twitter behaviour of Kiwi sportsmen will evolve as they enhance their proficiency with the new technology.
Athletes overseas, buoyed by a newfound capability to cut out the middle man, have embraced that aspect of Twitter and further eliminated the media's role in releasing news to the public. Liverpool striker Luis Suarez, for example, announced on his Twitter account he was accepting a 10-match ban for biting an opponent, while, locally, Feleti Mateo last week followed that trend and confirmed to his followers he was re-signing with the Warriors.
The same has applied for sports clubs and organisations. Using Twitter, teams can directly control the flow of information for fans, generating a greater connection with their paying customers.
"We're really putting an emphasis on making sure the fans get the information first," says Blues digital media manager James Rigby. "I send out the press releases of the team announcement [to the media] as well as tweeting it, so the fans are pretty much the first people to find out."
Last week, the Wallabies' Twitter account scooped its own union, "exclusively revealing" selected members of the squad to face the Lions, while some American franchises now release news on Twitter about players being signed or released.
Of course, that information flow is a two-way street. Sports fans, never known for level heads concerning the fortunes of their favourite teams, now have in Twitter an avenue to directly contact the team if things go awry.
In the NFL, the hapless New York Jets went viral after tweeting the question, "Free agency begins tomorrow. The Jets' priority should be ...", so inundated were they with biting replies, while the Blues also copped their fair share during their annus horribilis. "Last season was pretty tough on Twitter," Rigby says.
"There was quite a bit of criticism and people really did get stuck into the team, but you also saw the true blue fans come out and express their passion."
Both sets of supporters are being targeted this year by the Blues, who view Twitter as the ultimate vox-pop and a key tool for fan engagement.
"Before the advent of social media it would take until the end of the season until we could do a fan review to find out whether they were disgruntled with any aspects of the experience at Eden Park," says Rigby.
"Now, you soon find out if fans don't like the cheer team or they don't like queuing up. So we can use that to fix issues as the season progresses."
That form of feedback will continue to grow with Twitter users in this country but, with social media trends as fickle as some fans, how long will 140-character messaging reign supreme?
"It's hard to see how Twitter is going to develop," Treadwell says. "It could potentially get surpassed by video micro-blogging, but it would have to become much more user-friendly."
The Blues have already begun using video-sharing app Vine to give fans a glimpse inside the changing room before a big game, while Rawhiti-Forbes thinks that particular technology may soon be favoured among fans, too.
"I expect advancement in real-time video stuff," he says. "It may evolve to a group of buddies on the couch Vine-ing a Mexican Wave, which they send to their friends who do one back."
Joining in with the wave may be outside the athletes' domain, but they're not about to cede the voice they have found through Twitter. Weepu, for one, will remain on the site for the foreseeable future, but he admits it's not for everyone.
"Most people have got smart phones - Rene [Ranger] doesn't and it's a bit hard when you've got a brick as a phone and you're still pulling the aerial up. I'm not sure you can get Twitter on that one.
"But some of the other boys are on there and don't want anybody to know about it yet because they're still getting a feel for it. It's just them feeling comfortable with what they want to put out there.
"If they're not comfortable with that, because they've always been private with their lives, then they're not going to start something that makes them open up more."
But the day could eventually come when an athlete without Twitter seems as foreign as one going unpaid, though it's worth noting the current All Blacks, Black Caps and Kiwis captains are all notable for their abstention.
In fact, Richie McCaw "would as soon eat his own entrails as tweet", according to his biographer.
Which, incidentally, is one event that might just rival Bolt's Twitter records.
If only they had Twitter ...
How previous sporting moments could have been captured if Twitter was around.
June 21, 1995
@goldie14 "Any JBurg tweeps know of a great place to eat?"
@safasuzie "@goldie14 Yeah I know a place. It's got great food. I should know I work there."
@goldie14 "@safasuzie Great. flick us the deets we'll check it out."
May 29, 1953
@climber_hillary "We knocked the bast"
@climber_hillary "... Sorry hands are freezing. Meant to say 'We knocked the bastard off' with @tenzing - norgay"
January 29, 1981
@chappellbro_trevor "Interesting read. RT: @wisden 'Spirit of Cricket at an all-time high'."
November 8, 1986
@buck_8 "Feel kinda lighter after today's match ... "#nopanadolneeded #hardenup
September 10, 1988
@bigdennis "Hey @farrdesigns. Get off Twitter, you're a loser."
June 15, 2008
@kiwi_caddie "@tigerwoods great round today boss. You wanna catch a movie?"
@tigerwoods "@kiwi_caddie Nah think I might have a quiet one. Skype the wife."
@airjordan "@tigerwoods Whipped"
August 3, 1936
@thejesseowens "Hey @fuhrer_dewd69. Suck it." #gold #gold #gold #gold
February 11, 1990
@miketyson "Where the hell did that come from?"
Tuesday
How Twitter has changed the daily experiences of Kiwi athletes - for better and worse.
Yesterday
The media's growing use of Twitter, and how it has revolutionised the spectator experience for fans.