For some, the social network is an unedited global village gossip sheet, overflowing with misinformation. But it is also a digital delivery platform which has become very much part of the mainstream news business.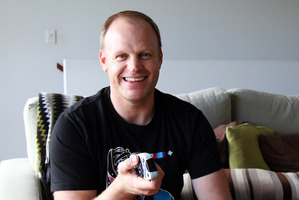 It's 6.58 on an unremarkable Tuesday night in Mt Wellington, and influential sports jock Andrew Mulligan is about to go live on air.
The Crowd Goes Wild host is a mix of nerves and excitement, but it is his cellphone on which he is most focused.
He's checking Twitter, the 140-characters-maximum social media network which is both transforming and occasionally disrupting traditional news feeds around the world.
Thanks to Twitter, Mulligan will continue to read, reply, laugh and share comments from his 15,000 followers for the duration of the 30-minute show.
This is just one small illustration of how a micro-blogging platform which connects more than 430,000 Kiwis and more than 500 million people around the world is changing the way in which sports fans, the media and sportsmen themselves consume their daily dose of news, gossip and prejudices.
Mulligan, considered New Zealand sport media's most prolific tweeter, is at the forefront. His live-to-air, light-hearted sport-smorgasbord show is perfectly tailored for the digital age and Twitter is the vehicle it is increasingly using to stay current.
Mulligan has sent 36,000 tweets to around 15,000 fans in four years. He's a self-described "recovering Twitter addict".
"I was on it quite a bit for a while there, maybe once every 20 minutes or so, constantly seeing what was going on and if anything had broken. It can turn into a bit of a vicious cycle of engaging and replying."
These days Mulligan has pulled back, but only slightly.
"I'm tweeting when a story is playing, I'm tweeting in the ad breaks."
Mulligan has no doubt Twitter has improved The Crowd Goes Wild. The nature of the show is that unrehearsed ad-libs rule.
"If we get something wrong, or make a mistake, there's always an anorak at home or a trainspotter watching, and they will correct you and tell you what really happened.
"I use it as a way to interact with people from a show perspective, to promote our show, to follow interesting people, and the news-breaking ability of it is really appealing to me."
But not everyone is jumping on the Twitter bandwagon. Celebrated New Zealand sportscaster Brendan Telfer feels Twitter's invasion of privacy is a price not worth paying.
"If my life depended on getting on Twitter right now I would be struggling," says Telfer, who is the target of a Radio Sport advertising campaign which heralds him as "the last dinosaur". "I don't see joining Twitter on my bucket list ... I actually tried looking at it once but wasn't sure how to get on to it, to be honest."
Telfer has been actively encouraged by his employer - the Radio Network - to integrate different forms of communication like Twitter into his radio show, but he's not convinced the social media platform would change much for him.
"When I first joined broadcasting many decades ago, the only form that you used was the medium that you were in. There has been great change in the last 10 years or so with the growth, arrival and integration of all these other forms of communications, but personally I'm not convinced that it changes much at the end of the day. I see Twitter's place in the system, but I don't feel that I have to be involved with it. I don't feel I'm missing out or being deprived of anything."
For some, Twitter is little more than an unedited global village gossip sheet, overflowing with misinformation. But it is also a digital delivery platform now very much part of the mainstream news business.
For instance, when the Herald sent a team of five journalists and two photographers to London to cover last year's Olympics, a specialist tweeter was included.
To the surprise of the traditional sports team, Troy Rawhiti-Forbes - the Herald Online's social media expert, with little sports reporting background - was chosen as the final member of the writing team.
"I couldn't believe it when I heard of the appointment," says then-senior reporter Dylan Cleaver. "I had to check it wasn't a mistake, it needed explaining to me. Why was this experiment happening? We were thin on the ground as it was and needed help."
Rawhiti-Forbes' modus operandi was to engage with the public. People would ask him questions and he would reply and have a conversation as an informant. He would also provide a live blow-by-blow account of all the big events on Twitter.
The editors believed that through Twitter and blogging, Rawhiti-Forbes could capture both the excitement and the live discussion.
"It didn't take me long to appreciate it," says Cleaver. "By the end the traditional print guys were joking that at [the 2016 Olympics in] Rio it could be one of us and four Troys."
Rawhiti-Forbes' interaction with the traditional pen-men at the Games represents the shrinking divide between new school and old school reporting. The social media expert excelled with pithy tweets about the live action, but still had a lot to learn from senior writers with more than 60 years of sports reporting under their belts.
Rawhiti-Forbes was encouraged to use his media accreditation to go into the mix zones, talk to other athletes and comment from inside the stadium. His reporting took on a whole new life. Interviews with Sir Mark Todd, Valerie Adams, Mike Tindall and others were instantly relayed via Twitter and his blog.
The idea that "real news" can be transmitted in 140 characters is very foreign to most journos. But the Olympic experience helped push them all forward into the digital age.
Nine months on, Cleaver uses Twitter every day.
Twitter has transformed the newsroom and has set the theme of where reporters need to be. The godly point of view is on its way out, replaced by journalists taking feedback, finding out what people want and being part of the discussion.
Increasingly, news happens first on Twitter, too. Millions of human monitors around the world want to be first with the news and media organisations are finding they have to adapt, or be left behind.
The downside is you will seldom find Twitter users brooding over ethical considerations, and there is no collective obligation to get it right.
But Alan Rusbridger, editor-in-chief of the Guardian, recently called Twitter "a more important tool for journalists than Google". He sees it as an editorial progression.
"Twitter remains a small population of our society, but it's a minority that strongly influences others," says Rusbridger. "And as it grows, the media game continues to change. The life expectancy of exclusive information, and the need and demand for instantaneous coverage is now measured in minutes and seconds, and these changes are having a profound implication on journalism."
For soccer enthusiast Guy Smith, Twitter helps break down the barrier between players and fans.
Smith is one of a handful of Wellington Phoenix supporters who control and operate the Yellow Fever Twitter account, which has more than 2000 followers. The fan-group often engage in banter with their favourite players: Jeremy Brockie, Glen Moss and Paul Ifill.
"They'll let us know about chants they enjoyed and we'll inform them of future plans for songs, that sort of thing," says Smith.
Interacting with New Zealand's top athletes is fun - and likely - but there also remains an "unreal" dimension to Twitter which makes some fans aim higher.
Take the case of Auckland-based TV cameraman Bevan Jones. He doesn't know Fernando Torres, but has watched him play many times, celebrated his goals and energetically engaged in debates about his ability.
He has no personal relationship with the Spanish striker, but when Spain were preparing to face the All Whites in the 2009 Confederations Cup, he desperately felt the need to get a message to the bleached-haired frontman.
So he fired up his Twitter account: "@f - torres09 Hey, can you go a little easy on New Zealand please? We are about 80 places behind you in the world :)." Torres didn't respond. How could he? Fernando Torres didn't have Twitter. The @f - torres09 handle was a parody account, created to trick social media "noobs" into engaging.
Jones was new to the Twitter game. He didn't know an account needed a blue tick to verify a celebrity's identity. He didn't really know how Twitter worked. And he didn't know Torres was about to score three goals in 15 minutes.
Four years later Twitter is a central tenant of Jones' sporting world and he is very familiar with its operations. Jones uses Twitter as a best friend.
"My enjoyment factor of watching sport is much higher. It makes games interactive. A lot of alternative voices help you to construct your own view."
Jones also subscribes to the concept of the Daily Me, a virtual daily newspaper customised for an individual's tastes.
"Post something I don't like: unfollow. Spout a whole lot of anti-[Luiz]Suarez stuff: unfollow. The beauty of cultivating your account is creating a sport world that you want to live in."
Jones' Twitter account means the world to him. But it would mean even more if one day he got a reply from the real Fernando.
In the meantime there's always Andrew Mulligan.
Social media a poisoned chalice
When Greg Treadwell lectures his students about Twitter, he encourages them to become a brand.
Treadwell is a senior lecturer in Journalism at the Auckland University of Technology and for the past six years has taught a class on new media, which examines emerging technologies.
When New Zealand's next batch of emerging journalists hand their post-graduate papers in they are expected to sign off with a Twitter handle.
"I know that in 10 years, when they are out there looking for their second or third job, and they want to stand out from the crowd, they had better have a brand," he said.
"Journalists may not think of themselves like that at the moment, but it is coming."
Treadwell is frustrated by the un-informed view that Twitter is shallow.
"We mustn't round on Twitter like it's a tool for idiots, it's a phenomenon really. 140 characters can be used to express the most banal s*** in the world, or it could be a link to the cure for cancer."
Twitter jumped into the world's consciousness in 2009, when a US airways flight struck a flock of birds and was forced to land in the icy Hudson River in New York.
The story broke on Twitter and the live documented landing from passengers and onlookers took reporting to the next level.
Since then Twitter's digital revolution has had a phenomenal effect on sport.
More than 150 million tweets were sent about the London Olympics, while this year's Super Bowl saw a record 24.1 million tweets, up from 13.7 million last year.
But Treadwell feels sympathy for the athletes, who are both encouraged to communicate with their fans and represent their sponsors on Twitter.
"It's like throwing them into the colosseum. The number of death threats and abuse they receive when they fail."
Treadwell cited the example of British Olympic diver Tom Daley, who failed to win a medal at the Olympics and was subsequently told via Twitter he had let down his dad - who was his inspiration, and had died a year earlier of brain cancer.
"So, you can't criticise the games, your events running late, you feel like s***, you're feeling bad and you can't express that, but someone else can send you a death threat because you didn't break the record.
"I feel for these athletes that Twitter is in some way a poisoned chalice they have been handed.
"And they can't turn it off, because their sponsors want them to be present.
"Twitter can reveal the best of humanity and the worst."
Also read:
Delete that! Twitter faux pas that failed to impress
Cricket: Twitter tirade prompts rethink
Yesterday
How Twitter has changed the daily experiences of Kiwi athletes - for better and worse.
Tomorrow
What of the future of Twitter in sport. Is it a fad or is it here to stay?