Once on ' />
Ian Mune leads the charge on Maurice Shadbolt's Gallipoli classic, writes Dionne Christian
Ian Mune has the audience at Auckland Theatre Company's Backstage Story enthralled. The veteran director, writer and actor sits with the cast of Once on Chunuk Bair on a behemoth of a set, but the hulking backdrop fades into the background as Mune delivers a moving oration about why Chunuk Bair matters.
"What is it about war stories, particularly war stories from the Gallipoli Campaign? At the beginning of the war, a lot of young men -- and some older ones -- from the far reaches of the British Empire joined up to support Mother England, and the first actual campaign they got into was Gallipoli. They were startled to discover that the English generals were stupid, arrogant and disregarding of the lives and welfare of their troops.
Attention must be paid. Their experiences cannot be thrust aside, but must be acknowledged.

SHARE THIS QUOTE:
"Because of that, these men [from New Zealand] discovered something they had not previously known: their forebears had been in New Zealand for maybe 70 or 80 years but no one in New Zealand knew that during that time they had evolved the beginning of a new culture which was not English.
"These men were trained to respect authority, as you do in the armed forces, but New Zealanders were no longer the kind of people who tugged their forelocks."
Mune's eyes well and his voice falters as he continues to talk softly about the events which unfold in the play Once on Chunuk Bair. On August 7, 1915, the men of the Wellington Battalion were ordered by British commanders to join the offensive to take the strategic peak of Chunuk Bair on Turkey's Gallipoli Peninsula. They were to follow the Auckland Battalion, which was all but annihilated, up the hill in broad daylight. But Wellington Battalion commander, Lieutenant-Colonel William Malone, refused to send his men on a suicide mission. He argued they could take Chunuk Bair at night and, in the dawn hours of August 8, he and his troops made their way up it.
Assisted by some Auckland mounted riflemen, Maori from the Native Contingent and British soldiers, they reached the summit but soon met a colossal counterattack. Of the 760 men tasked to take the summit, 711 were either killed, missing in action believed dead or grievously wounded.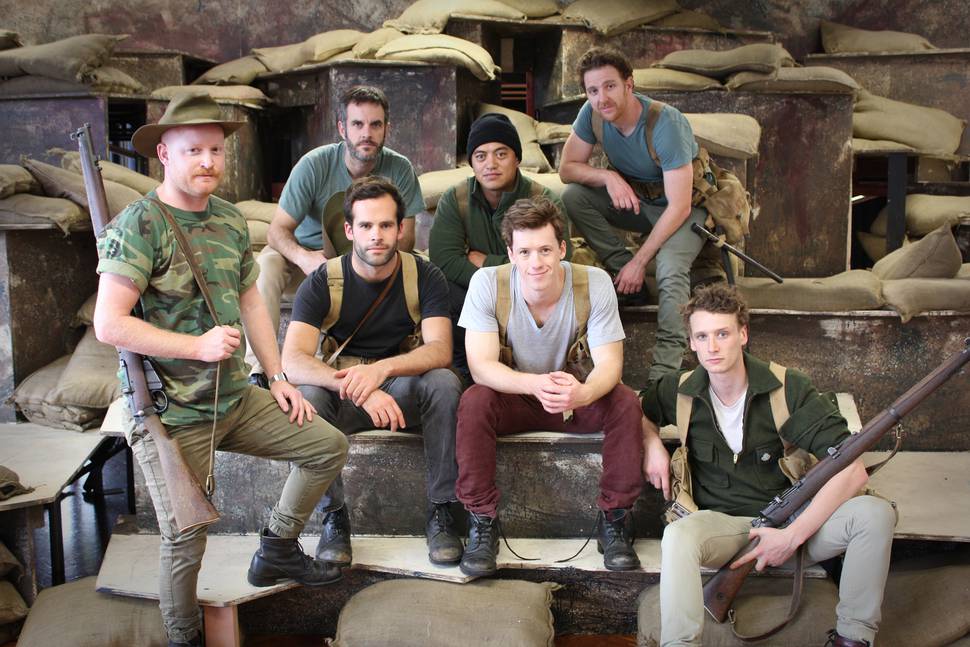 Mune, who directed the play's debut season in 1982 and its last professional production in '89, ends his address by declaring that in his opinion Chunuk Bair is a gruelling story which was swept under the carpet to protect the reputation of English generals who were personally responsible for the mass murder of hundreds of New Zealanders, among others.
It's something of a shock when he declares that the first draft of Once on Chunuk Bair was so bad he and then-Mercury Theatre artistic director Jonathan Hardy thought it would be un-performable. Mune readily admits they had no idea that it would become a masterpiece of remembrance.
The only play written by New Zealand writer Maurice Shadbolt, it was conceived after the author made an emotional visit in 1977 to Turkey's Anzac Cove and Chunuk Bair. Sometime earlier, he had signed on a serviette a pledge to Mune and Hardy to write a play for the Mercury Theatre.
"About a year later, Maurice turned up and said, 'I've got that play for you', so I took it home and read it and it was awful; there was much too much dialogue and it was simply unplayable. I talked to Jonathan and we decided to organise a reading that Maurice would attend so he could see for himself, without us having to say anything, that it was a pile of tripe. Anyway, he arrives at the theatre and puts down in front of the assembled actors a buckle, a spent bullet and a fragment of human bone. He told them, 'On my way here, I went to Gallipoli and Chunuk Bair and for the whole journey up that mountain, the ground is littered with these: the remains of our soldiers.' We got to the end of the reading and there was total silence, all the actors stood up and I knew we were buggered and we were going to have to do the play."
He admits there were lively discussions with Shadbolt about cutting the dialogue and certain scenes. To get the chance to revisit it some 32 years later, as the world prepares to mark the centenary of World War I, is a gift, says Mune. Further changes have been made to the script, which he now describes as a fine balance between action and philosophy. "And for a modern audience, you have to keep the pressure up; they don't like too much sitting around and talking about it all."
He says the play is a beast, which is why he is sharing directing duties with Cameron Rhodes. The two have split the cast of 11 into officers and soldiers, with Mune responsible for working with the former and Rhodes the latter. They say it mirrors the two worlds of the play. Rehearsals have involved the cast doing daily morning military drills and physical training which, says Rhodes, were the most apt way to get a "group of actors from Auckland" to have an appreciation of military hierarchy, discipline and reliance of one another. In the early days, that training proved so gruelling some of the cast felt faint and others nearly vomited.
But actors Stephen Lovatt, who plays Lieutenant-Colonel Connolly, and Wesley Dowdell, who portrays foot soldier Smiler, say it's nothing compared to what our soldiers went through in World War I. Both have the first-hand memories of close relatives to draw upon in their portrayals.
Lovatt's grandfather fought in and survived World War I; Dowdell's grandfather came home from World War II and, on his deathbed, revealed he had written memoirs and wanted them read.
"I cried like a baby when I read them for the first time and I get them out every Anzac Day and re-read them and I still cry," says Dowdell. "I am so passionate about this and I thought I was a bit alone in that until I started rehearsals and heard Steven and Ian talking."
Lovatt reckons younger members of the cast have been surprised by how fired up he and Mune are about our World War contributions and histories and the importance of telling those stories.
"We have blood in this game and I think that's the same with a lot of New Zealand families; you don't have to scratch very deep to find a story about how [we were] affected by war. My grandfather was one of the lucky ones; he survived the Western Front. He got shot by a sniper in the calf and he thought the guy behind him had kicked him so he turned round and smacked him one and then was told he'd been shot."
It is Mune who has the last word: "Attention must be paid. Their experiences cannot be thrust aside, but must be acknowledged."

What: Once on Chunuk Bair
Where and when: Maidment Theatre, June 12-July 5