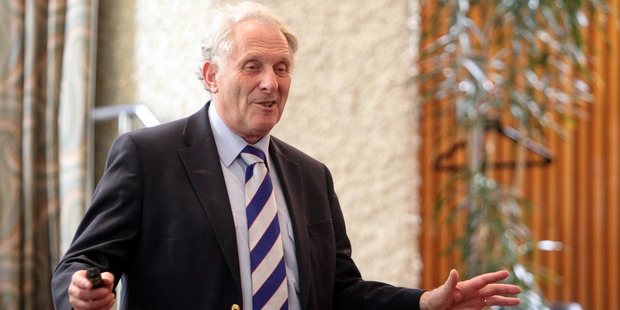 Weather scientist scientist Jim Salinger has found a possibly unlikely ally in Federated Farmers which believes the logic for water storage is now irrefutable.
Dr Salinger has reinforced what the Intergovernmental Panel on Climate Change (IPCC) reported last year and Federated Farmers agrees.
"Water storage is more than a farming tool, it is a legitimate climate adaptation tool as well,"said William Rolleston, the organisation's climate change spokesman.
"Whatever one's views may be on the causes of climate change, the fact is it is happening and that means we have two realistic options for adaptation.
"First is researching new crops and pasture varieties in the knowledge farms will face greater environmental stress.
"This demands an on-going and bipartisan ramp-up in agricultural research and development spend and science capability.
"The second is the huge opportunity New Zealand has to store rain water."
Last year, the IPCC predicted that New Zealand could face a future climate of heavier extreme rainfall, stronger and more extreme winter winds as well as longer periods of drought.
Dr Rolleston says South Canterbury's Opuha dam, the most recent dedicated water storage facility which started operating in the late 1990s, has proven itself by insulating South Canterbury from drought and New Zealand needs facilities such as Hawke's Bay's Ruataniwha project to build resilience into the economy and society.
"The constant for water remains irrespective of what current land uses are or what they could be in the future," Dr Rolleston said.
"There are three basics to growing pasture and crops and they are soil, sunlight and water. While many countries have the first two, it is water, or the lack of it, which limits food production in a world where the supply and demand for food is on a knife edge."
Stored rain water provides the means to maintain minimum river flows. Water storage is as much environmental infrastructure as it is economic.
"Aside from being a net food exporter in a world of increasing food shortage, New Zealanders can be proud our farmers are among the most carbon efficient in the world," he said.
"Our leadership extends to our country's role in the Global Research Alliance on agricultural greenhouse gases and the Palmerston North-based Pastoral Greenhouse Gas Research Consortium.
"Dr Jim Salinger has confirmed what many of us on-farm knew.
"Last winter was warmer and he puts it at 1.27C above the 1961-1990 long-term average.
"If it's getting hotter then we need to store water."