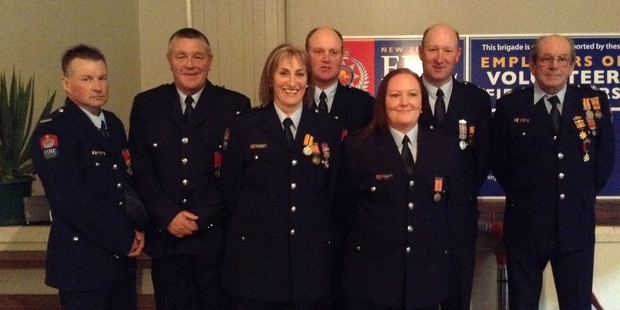 As a teenager, Norsewood's Sarena Montgomery wanted to be a firefighter, but her father Ken Burgess knew the grim reality of the job and wanted to protect his daughter.
"My father was a firefighter in Dannevirke and Norsewood and Waipukurau and saw some horrific accidents and wanted to shield me from that," she said.
But at 25, with her husband Wayne in the Norsewood Brigade and her father-in-law Roger the fire chief, Mrs Montgomery signed on too.
"I joined in 1999, the first female firefighter with the brigade, but now Norsewood has three women volunteering and as does the Ormondville brigade," she said.
Last Saturday night, Sarena was presented with her star for 14 years long service and good conduct at a special medal parade at the Norsewood Fire Station.
"It's a big commitment and I really didn't know what I was getting into in this man's world," she said. "But the fire service is in my blood and the Norsewood brigade part of my life and now I think people have come to accept women in a man's world.
"The fire brigade plays a huge part in our family life and Norsewood is a nice, family brigade and I wouldn't change anything. Sometimes, it's been hard. I've been to a lot of fatalities and some big fires but it's rewarding and people do appreciate the work you do. We don't get paid, but that appreciation is more than any money is worth.
"You need a sense of humour, a lot of pluckiness, great communication skills and must be a team player because you don't get any medals for being a hero on your own. It's all about the team and keeping each other safe."
Appointed Norsewood's first female station officer in 2012, the first women in the role in the brigade's 56-year history, Mrs Montgomery is also the brigade's training officer.
"I've learnt a lot from the men and they're a good group of guys," she said. "It's like being part of an extended family, they all look after me and my kids. We're all one big family and are there for each other when things get tough."
With two young children, Olivia, 8, and Lachlan 5 and her hairdressing business to run, Mrs Montgomery may not turn out all the time for the brigade in an operational role, especially as husband Wayne, as deputy fire chief, is up first.
"If a call goes up in the middle of the night, it will be Wayne responding, but because of computerisation I know where the brigade is and still help out, even if it's just taking tea and coffee to the guys," she said.
"There are plenty of jobs for me to do for the brigade, it's not just about being in the hot seat. Even when I was pregnant, I supplied food to the brigade when they were out on jobs."
However, as station training officer and in charge of fire safety education and awareness, through the Firewise programme, Mrs Montgomery knows how vital her role is.
"We're the ones running into a burning building when others are running out and we're out in storms when others are hunkered down," she said.
"It's our job to try and keep people safe and while there may be times when we may not be able to save a life, it's important to make sure our crews come home safely.
"I don't consider I'm on a power trip when I'm training our volunteers, but the brigade members are there to learn, so they return safely to their families. Training firefighters is a big responsibility and I'm there to do a job."
"And yes, I may look sweet but people know not to try and push the boundaries, because I get my way."
She admits a new recruit, who is young and fit, may try to pull the wool over her eyes.
"Normally I don't have to holler too loud," she said. "We're an awesome team at Norsewood and sometimes other brigade members have the skills to deliver the training in a specific aspect and I'm happy for them to step up."
And the emotional aspects of the job can hit home for Sarena, especially callouts involving women and children.
"It's sometimes not what you see, but your feelings for the families involved, because adrenalin can block out what we've seen. But I wouldn't be human if things didn't affect me," she said. " I think being a woman actually helps, the others can see that sometimes it's okay to cry.
Norsewood Fire Brigade's chief fire officer, Terrance Ahern said Mrs Montgomery had earned a huge amount of respect from fellow brigade members.
"The brigade is now so different to that of the 1990s," he said. "Having female firefighters is great for the brigade."