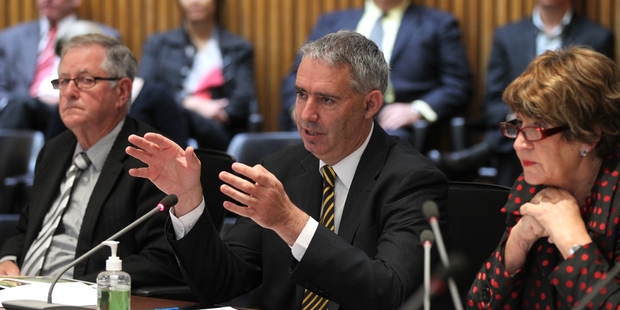 Amalgamation is one of three "game changers" Hawke's Bay requires for the region to be an economic success, Hastings Mayor Lawrence Yule says.
As well as a single regionwide council, Hawke's Bay needed "some form" of enhanced water storage for irrigation and "to consider where we can be and what we can get out of oil and gas exploration", Mr Yule told the Local Government Commission on Thursday.
He was presenting the Hasting District Council's submission to the commission on its draft amalgamation proposal, under which the region's five local body organisations would be scrapped and replaced by a single unitary authority.
Mr Yule, flanked by seven of Hastings' 14 councillors, said the council supported amalgamation but wanted to see changes to the commission's proposal. Those changes included an increase in the number of councillors who would be elected to a regionwide council and a ring-fencing of Hastings debt so residents living outside the present Hastings district were not lumbered with having to repay it.
"Unlike some other submissions you may receive, this council has tried to proactively consider beneficial changes to your proposal that in our view would give a better outcome," he said.
Mr Yule said local government reform was not a panacea for all the region's problems would help enable a united approach in tackling economic decline, including through simplified planning processes across Hawke's Bay.
An example of the issues facing the region was climate change, with a recent report predicting sea level rises of up to 1.3m over the next century.
"We are going to have to have to work together ... to consider the implications of that and potentially work out solutions. It is one of those wicked problems - extremely difficult, over a long period of time," he said.
"Potentially extremely unpopular decisions will have to be made as we deal with that and [there will be] significant financial implications. There is no way that the current structure, in our view, will give us the best opportunity to actually try to deal with that."
On Tuesday, the first day of the commission's hearings, Napier Mayor Bill Dalton said the amalgamation issue had been disruptive for Hawke's Bay, cause the biggest divide between Napier and Hastings he had seen in his lifetime.
Mr Yule rejected that yesterday, saying while the two cities' councils had different views on amalgamation, there had not been a "meltdown of activity" between them.
"Things are still happening, and we are still doing the things we need to do."
Mr Yule said as well as tapping the benefits of oil and gas exploration, Hawke's Bay needed water storage - either in the form of the proposed Ruataniwha dam or another project - as a way of maximising the region's primary production "because sometimes we run out of water".
The commission is in the process of scheduling further hearing dates in the region and said this week it hoped to hear all submitters within the next four to six weeks.
Once it has heard submissions it has the option to issue its draft proposal as a final proposal, modify the draft and issue it as a final proposal, issue a new draft proposal for further consultation, or decide not to issue a final proposal, in which case the amalgamation process would stop.