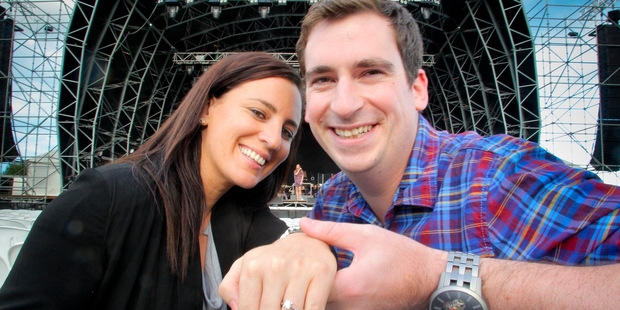 As a marriage proposal destination, Napier's beaten Vegas hands-down for one couple.
The big question was popped on-stage during a Mission Concert sound-check last night.
For him - 30-year-old Brian Cowley, from the Isle of Man - it was something he never envisaged when he sent an email to promoters asking if, perhaps, one of the stars could throw in a best-wishes line somewhere in the concert tonight.
She - Zan Boylan, from Auckland - was swept off her feet enough just to be present for the sound check, let alone being on stage for the bond-sealing events that followed, as the backing vocalists, and orchestra, by arrangement, struck up their version of Alicia Keys' If I Ain't Got You.
It was capped by an embrace and congratulations from concert star Mel C, as performers smiled, applauded...and there may have even been a tear or two.
The idea to take it a stage further than the original request came as promoter Garry Craft passed the email to publicist Sandra Roberts and suggested they could do something a little special.
Ms Roberts soon struck up a secret liaison with the suitor who has been in New Zealand about four years, and who met his now-fiancee at a business meeting about seven months ago.
Thus the plans for Miss Boylan's mystery night out were put in place.
Having bought the ring when they holidayed in the Isle of Man for her to meet his parents at Christmas, Mr Cowley, who had never before come to Napier, popped the question on stage and produced the sparkling gem.
She accepted, and asked soon afterwards if there was a chance she might not have, she said emphatically: "No way!"
All you need to know about the Mission Concert, p4