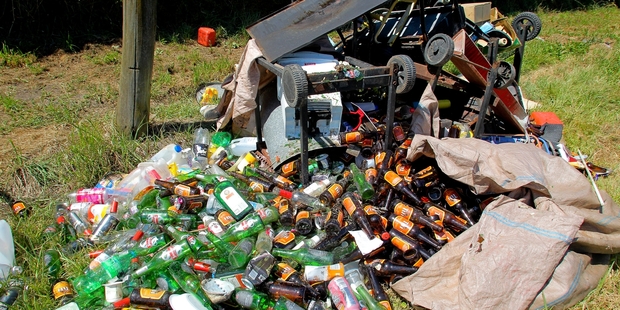 Hastings woman Shirley Wilson is on a first name basis with several district council employees - but for all the wrong reasons.
She calls the council an average of once a month to tell them about rubbish being dumped outside her house on Irongate Rd and says she's had enough of it.
Mrs Wilson lives on Irongate Rd West, now a cul de sac following the completion of the southern expansion of the Hawke's Bay Expressway in 2011.
Yesterday she woke up and walked outside to find a pile of rubbish containing at least three barbecues, a table, chairs, two children's bikes and hundreds of glass bottles.
"It definitely wasn't there last night because we had guests leave about 10 and they would've seen it. We noticed it about 10.30 this morning. I've been here for 17 years and this is the worst, it's the pits."
She said yesterday rubbish dumping has become more frequent since the expressway was finished.
"It comes in spasms, we'll have a run of lots of rubbish and then no rubbish for a while. It's worse now we're a cul de sac. We've had all sorts of things dumped here, animal carcasses, goats, a cow, hacked up and left here. Shellfish, grass cuttings, household rubbish."
Mrs Wilson said she is on the phone to the council at least once a month, sometimes every three weeks so try and arrange them to come and clear rubbish from the side of the road.
"They all know me by name now, they say 'Oh yes, hi Shirley'. I tell them if they need to bring a truck or not. They'll need a big truck for this lot."
She said the council had previously brought a crane in to remove rubbish from a ditch on the other side of the road.
"People obviously ... can't be bothered taking it to the dump, they just bring it here."
Mrs Wilson sometimes hunts through the rubbish to try and find addresses and said she always passes them on to the council.
"They just send a letter though, they never prosecute them or anything. If I knew who had done this I would pick up every single piece and take it straight back over to them and dump it on their lawn."