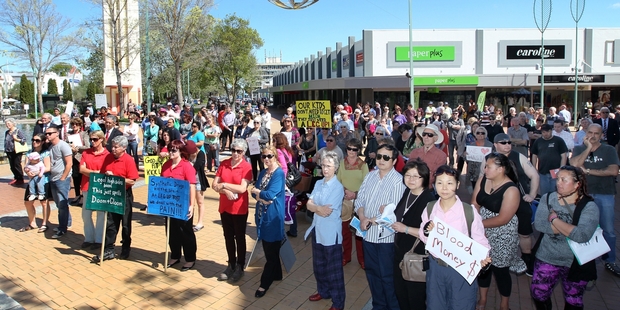 Suburban Hawke's Bay dairy owners are going to extreme lengths to illegally sell psychoactive substances, including making home deliveries to customers, police say.
Another "covert method" being used by store owners to flout the law is hiding synthetic drugs at the bottom of lolly packets when handing them to buyers.
The techniques are revealed in a written submission from police to Hastings District Council, which meets tomorrow to approve a psychoactive substances sales policy for the city.
Council staff have recommended sales of the so-called "legal highs" be confined to the Hastings CBD, after a public submissions process that has reignited concerns from residents, retailers and community groups about the damaging effects the drugs are having on society.
In the police submission to the council, Sergeant Nigel Hurley said officers were receiving regular complaints and information about suburban dairies continuing to sell psychoactive substances despite a ban on sales through non-licensed outlets which came into force in July.
"One of these dairies has been observed delivering psychoactive substances to the local residents in their delivery van," Mr Hurley's submission said. "Dairies are continuing to develop covert methods in which to sell their product. A current favourite is to hide the product at the bottom of a packet of lollies."
Last month a Napier South dairy owner, Xinbaio Zhang, became the first Hawke's Bay person to be convicted of illegally selling synthetic highs under the new law.
Mr Hurley's submission noted it was not illegal for dairy owners to possess the products, just to sell them.
"This makes it more difficult for police; a search warrant that locates the product is insufficient for criminal charges.
"We need to apprehend the dairy owner in the process of selling.
"They are often only selling to locals that they know and trust. Many of these people have developed habits and addictions and are unwilling to assist police."
Yesterday, Mr Hurley told Hawke's Bay Today police were meeting regularly with iwi, the district health board and community groups, and were also receiving information from the public about illegal sales.
While he was not aware of any local prosecutions under way, "that will happen" once police had sufficient evidence.
He declined to reveal where the dairies referred to in his submission were located.
In a report prepared for tomorrow's hearing meeting, council staff noted that under the law the council cannot ban the sale of psychoactive substances in the district nor make a policy that is so restrictive that it effectively bans the sale of approved products in licensed stores.
Therefore, their recommendation to councillors was that they approve a policy restricting sales to the CBD.
"The proposed policy has been developed to minimise the potential for harm caused by psychoactive products through the careful management of retail locations in the district and by providing a policy which seeks to reduce the opportunity for purchasing 'legal highs' while not completely banning these substances within our district," the report says.
That restriction "will still result in negative effects being felt on retailers, customers and pedestrians within the area. However, no submitter has highlighted an alternative location resulting in less effects."
In Mr Hurley's submission, he noted: "Police have noticed a substantial increase in criminals being under the influence of psychoactive substances at the time of arrest, particularly young offenders.
"Often these people commit violent offences and continue to behave in a violent and threatening manner when in police custody. Many commit crimes to pay for their psychoactive substance habit/addiction.
"There are substantial profits to be made from the sale of psychoactive substances. This is proving to be a temptation for dairy owners."