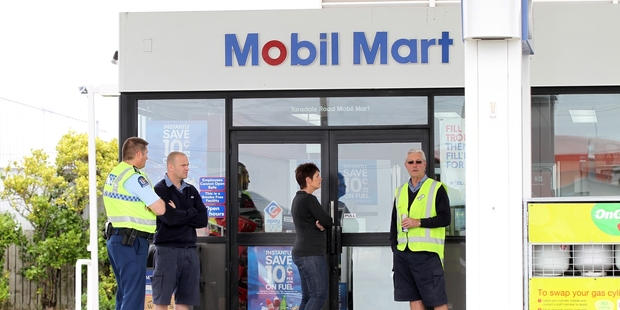 A second knifepoint robbery in Napier in as many days has police appealing for information from the public about the offenders involved.
At about 10.50am yesterday a man walked into the Mobil service station on Taradale Rd and bought a drink before loitering inside looking at items on the shelves, waiting for other customers to leave.
He then approached one of the attendants and demanded he hand over money from the till.
He showed the man what Detective John McGregor described as a large, black-handled knife - 20cm to 30cm long.
The incident had similarities to the robbery of the Video Ezy store in Gloucester St, Greenmeadows, just before 10pm last Tuesday, although Mr McGregor said that had been ruled out as the descriptions of the offenders differed.
Staff at the service station said they were unable to comment on what happened, although one did describe what unfolded as "pretty scary".
"But I'm okay."
Mr McGregor said the offender was a slim male Maori, possibly in his late 20s or early 30s, wearing a high-visibility orange vest over a green hooded top, cuffed jeans tucked into boots and a red hat with "Falcon" in large white letters on it.
The attendant handed over a quantity of money and the man ran from the shop and into an alleyway leading to Edmundson St in the Onekawa industrial area. Police believe he may have been picked up by a waiting vehicle.
One man at the scene afterwards said it appeared the offender had been spotted by two men who were also at the service station. They gave chase but lost sight of him.
"We have already spoken to several people who saw this man on Taradale Rd before the robbery but we need to speak to anyone else who may have seen something, either before the robbery took place or afterwards, particularly around the Edmundson St area," Mr McGregor said.
"This is a busy area that carries a lot of traffic and someone may have seen this person coming into the service station or leaving it."
A nearby resident said he was in his garage and heard sirens approaching.
"I looked across and there were police cars pulling up."
He said he liked to keep an eye on the service station, usually at night, as he had got to know the staff.
"He must have been desperate because this was broad-daylight stuff - that's a real concern," the man said. He heard about the man's high-visibility vest and said it appeared he had worn it to try to look as if he was part of a working team in the area, "so as not to look suspicious".
Police patrols moved into the wider area and set up cordons. Patrol cars were seen at both ends of the expressway as well as in the immediate area.
As that incident was being investigated, CCTV footage from the Video Ezy robbery was being released. It shows the offender, described as a stocky Maori about 1.7m tall, wearing a dark, hooded top. He was also wearing yellow or cream-coloured gloves, dark trousers and what appeared to be white-rimmed sneakers.
Anyone with any information about either robbery is asked to phone Detective McGregor at the Napier Police Station on 831 0700, or leave information anonymously on Crimestoppers.