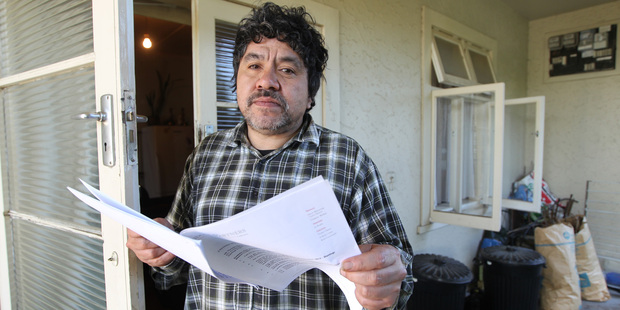 A Hastings man says he was taken aback when he received a letter in the mail last week warning him he is facing charges for not completing the 2013 Census.
Thomas Martin contacted Hawke's Bay Today after receiving court summons from a lawyer acting on behalf of Statistics New Zealand.
"Basically I got a letter in the mail that said I was charged for not filling in information on the Census," he said. "Now I'm facing a $500 fine and $20 a day for every day after conviction that I don't fill in the forms."
Mr Martin is scheduled to appear in the Hastings District Court on December 10 and said he is yet to find a lawyer.
He said he may end up defending the charge himself.
"I'm definitely defending it. I don't fill the Census in on principle, I never have. They get enough information about us anyway from various departments."
Mr Martin said yesterday it was "ridiculous" that not filling in a piece of paper could land him in court.
"If I don't show up they'll arrest me. I think we should have the freedom to give out what information we want. It's not like I've done anything wrong."
He said he believes the prosecution is a "money grabbing scheme".
"It's a piece of paper, is it worth fining people and taking people to court over? Haven't they got better things to do? Just because I wouldn't put pen to paper, I can't see the sense in it."
Mr Martin was sent a summary of facts with the letter which said he had been sent reminders in March and April and a notice of liability warning he could be prosecuted in July.
Statistics New Zealand Census general manager Sarah Minson said prosecuting those who refused to fill in the Census was standard practice.
"After every Census we identify a number of cases to take through the prosecution process. There are 100 from the 2013 Census that are going through the District Courts at the moment."
Ms Minson said there were three prosecutions being handled through the Napier office for the Hawke's Bay region.
She said a number of factors determined who would be prosecuted.
"After Census day we send a number of reminders and narrow it down to a group of people. Those who refuse to complete it, incite others not to complete or deface their forms. We take into account personal circumstances and the likelihood of success, we can't prosecute everyone but there is a very small number we feel we can successfully prosecute."
Ms Minson said prosecuting a small group did work in terms of getting people to fill in their forms.
"Most people are really good but there are a number of people who say why is it necessary and for those people we say if you don't complete the forms you risk prosecution."
Mr Martin said he feels he is being made an example out of.
"If I had robbed someone, or been caught drunk driving then they should make an example but it's not fair to make an example out of anybody for this. It should be my choice to fill in the forms or not."
According to the Statistics New Zealand website, population information from the Census helps determine how billions of dollars of government funding is spent in the community. It is used to make decisions about services like hospitals, schools, roads, public transport and recreational facilities.
The website states Census information is also used to decide electorate boundaries and by councils, community groups and businesses to plan for the future.