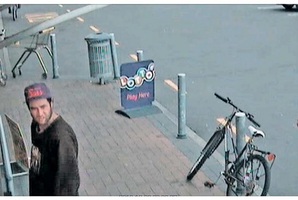 Napier police investigating Tuesday's robbery of an elderly woman have identifed a man allegedly involved in the incident after an overwhelming response from the public to a CCTV image they released.
The man was filmed on a CCTV camera as he stood by a cash machine outside the Napier Pak'nSave supermarket just after 9am that day.
After the robbery police appealed to businesses and stores in the area to go through security footage from Tuesday between 9am and 10am in the hope the offenders were caught on film.
The image handed to police was picked up by security staff at the supermarket who noticed the man matched a description given to police. He was described as having a beard and was wearing a purple cap and brown T-shirt.
"We asked all businesses in the area to look at their footage and this one came up," Eastern Districts Police communications manager Kris McGehan said.
Today police said in a statement the person was identified. The statement said there was an overwhelming response from the public and local retailers who offered their CCTV footage in relation to the incident. "Police want to thank everyone who offered information about the person in the photo. It was a great community effort," Constable Andy Clinton said.

Police said the 76-year-old woman and her 75-year-old husband withdrew several hundred dollars from an ATM attached to the Carlyle St Countdown Supermarket on Tuesday morning.
They had then walked towards the Station St Countdown before later heading back to Carlyle St on their way home.
They were approached by two men on bicycles as they neared home and one snatched the money, and the woman's bank card, from her.
Her screams alerted two passing roadworkers who pursued the pair and managed to get the money back. But the offenders made off before police arrived.
The second man was described as Caucasian or pale Maori, about 1.82m tall of skinny build and wearing shorts. He also had a noticeable scab on his face.
Anyone with any more information on the incident are asked to contact Constable Andy Clinton at the Napier Police Station on 831 0700.
Calls can also be made anonymously to Crimestoppers on 0800 555 111.