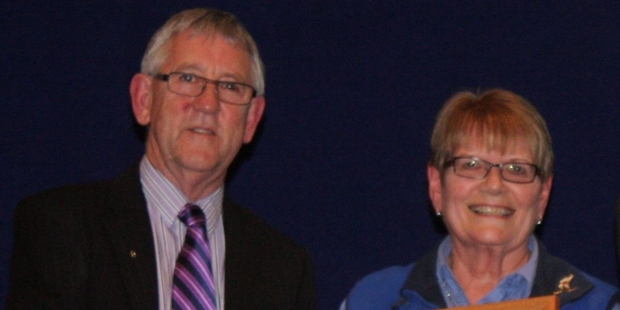 Dannevirke's cave dwellers are so good they've been banned from entering the Tararua TrustPower Community Volunteer awards - but they're still winners.
At last week's Tararua TrustPower Community Volunteer awards, the Dannevirke Fantasy Cave volunteers received a special commendation and a cheque for $500 acknowledging their continuing contribution to Dannevirke.
"They're a fun loving and resourceful crew and, although we've kicked them out of the awards, we can't forget this upcycling, fancy dress-making team, the cave dwellers," Graeme Purches TrustPower's community relations manager said.
"They're a unique outfit."
The Fantasy Cave entered and won the inaugural Tararua TrustPower volunteer awards and, recognising the high calibre of their entry, Mr Purches banned them from entering in the future, sweetening the deal with the promise of a $500 cheque each year instead.
Liz Edwards, the wife of the Fantasy Cave's president, Ces, said the cave dweller's relationship with TrustPower was special.
"They've been so good to us. It's not just the financial donation, they encourage us and give us advice on our rather large power bill too," she said.
"This cheque will help to pay for a large, powerful and expensive battery for our stairwalker, with the balance being used for our next project.
"The contribution from TrustPower is absolutely fabulous and helps us out no end.
"The money helps us to meet our extra expenses because nothing is cheap anymore."
What does remain cheap is the entry fee to the cave where visitor numbers are improving dramatically.
"Things are looking positive and we had the best September in three years," Mrs Edwards said.
"We've also had more bookings for November than we've ever had, with a big increase in over-60s groups and friendship groups. The first bookings from school groups for December are also coming in."
During the school holidays, the cave dwellers are holding storytelling sessions at 11am and 1.15pm and the new Puss in Boots display has opened.
The Dannevirke Fantasy Cave is open during the school holidays on Tuesday, Thursday and Saturday from 10am to 2pm.