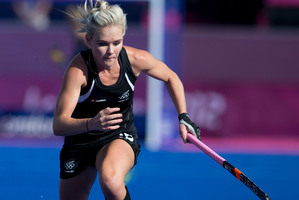 Hawke's Bay has secured a 10-year international women's hockey tournament in a coup praised as "one of the most significant days in Hawke's Bay's history".
Announced yesterday, the tournament will be hosted at the yet to be completed hockey turf at Sports Park Hawke's Bay.
It has been underwritten by a consortium of business leaders and philanthropists from within the community, many of whom were initially brought together for the 2011 sponsorship of the Black Sticks teams.
Due to be held in April next year, the event will feature six nations before growing to an eight-nation tournament in following years. Alongside the Black Sticks Women, confirmed teams for next year's event are Argentina, Australia, China and Korea, with another country yet to be announced.
With a contract in place for 10 years, it required co-operation from the International Hockey Federation and it is hoped to be a women's tournament comparable to the men's Sultan Azlan Shah Cup tournament which is held in Malaysia each year.
This attracts a global audience in the tens of millions.
Hawke's Bay Regional Sports Park Trust chair Lawrence Yule said he was "ecstatic".
"I also think it's one of the most significant days in Hawke's Bay's history. We are having a 10-year, eight nations, truly international event."
Hawke's Bay Regional Council chairman Fenton Wilson said it was his council's belief that "good things take time".
"It's a huge day for Hawke's Bay, and it's a pleasure to be involved."
The event was secured in part due to $2 million in funding from the Hawke's Bay Regional Council for the development of the hockey turf at Sports Park Hawke's Bay, as well as $663,000 of funding from Hastings District Council.
Businessman Bruce Mactaggart, who was instrumental in organising the sponsors into the Hawke's Bay Sports Events and Education Consortium which is underwriting the event, said while hockey was the focal point, spin-offs for the Bay tourism industry and the local economy would be huge.
"We have got some agreements in place to take the event, to a complete event experience," he said.
"The feedback we've already had from all sorts of the tourism sector is one of great excitement.
"We've actually convinced the World Hockey Board to make a permanent fixture in New Zealand and in Hawke's Bay." He said it would become an event all teams were "fighting to come to".
Work was expected to start tomorrow on the construction of the sports park infrastructure, to be ready for the April tournament.
Hockey New Zealand general manager events Ian Francis said the aim was for the event to become a regular landmark invitational tournament where the world's top women's teams want to come and compete each year.
Black Sticks Women's coach Mark Hager would be using the tournament as part of the Black Sticks build-up to the World Cup in Holland in May and the Commonwealth Games in Glasgow in July.