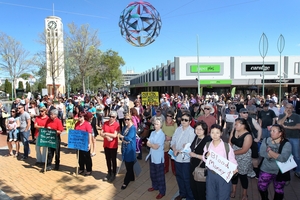 About 300 demonstrators took over the Hastings city centre yesterday with signs and banners to rail against the sale of legal highs.
There were speeches and cries for help from the crowd, some of who were angry authorities had not done more to remove the substances from the market.
A powerful plea was delivered by mother Jolene Morrell, who called for an out-and-out ban, not just in Hawke's Bay but the entire country.
"What did you do? You authorities, you the crowd, you the Government, you the number one Hastings leader, the mayor, you the police department, you the District Health Board, you the Ministry of Education, you the Ministry of Social Development. . . Well here's what you did, you allowed a generation of young people to get into a life of crime, all races, all creeds," she read in a determined voice.
Impassioned residents fighting for a ban of the highs became heated, with one woman heckling local MP Chris Tremain during his speech.
People gathered with a united cause - to make it clear that legal drugs such as Voodoo, Giggle and Kryptonite were not welcome.
The rally coincided with yesterday's announcement that three brands of legal highs have been banned under the powers of the Psychoactive Substances Act.
News that Kronic, K2 and Kryptonite were to be removed from shelves was welcomed yesterday by Tukituki MP Craig Foss, who said it showed the new legislation in process.
"Everything is working as scheduled and I'm hopeful there will be even more positive news over the coming months," he said. "There's a hell of a lot less [products available] now than ... a few months ago."
Currently 28 products have been granted a temporary licence, being sold from around 110 licensed retailers nationwide and the authority was in the process of referring all products with interim approval to Environmental Science and Research for testing to ensure consistency and compliance with licence conditions.
Mr Foss said he was sympathetic to the concerns some people had about the number of legal high products still available and hoped they took heart from the Government's announcement.
"We have to go through due process to make sure that once banned temporarily, or otherwise, they stay off the streets."
When asked about the Hastings rally he said it was "great that people are expressing their opinions".
Protesters ranged from students in school uniform to elderly members of the community and most importantly, those who had been touched by the adverse effects of harmful legal substances.
"They shouldn't be legal, I have heard stories, my father is a doctor and he has listed all of the symptoms - it's really bad, this has to stop," Havelock North High School house captain Molly Moore said.
Two 16-year-old girls felt so strongly about the cause, they left their course early to take part.
"I am here because I have known a few people that take them, these are legal highs but they are actually deadly I have had friends and family end up in hospital because of this," Emily Van-Olffen said.
"The thing is there's no possible way to ban it fully, it's just going to pop up again on the black market."
Her take on why the synthetic highs were so prolific on our streets came down to the fact that people were bored.
"So much of why people use this stuff is that there's nothing better to do, the council, the Government, someone needs to make a place where people can go, the skate bowl is only going to be another place to get high."
Local retailer Julie Danes said it was not uncommon for children as young as 12 to be seen smoking it on the streets. "It's heartbreaking, I am just here to make a stand and say 'it's not okay'. Just because it's legal that does not make it alright. I work at a shop in town and I have seen underage people get someone else to buy it for them, or young kids waiting for adults who have gone in to get it.
"It's got a ripple-on effect, they see the adults in their lives doing it and think that's just what you do - it's just cycle, cycle, cycle," fellow retailer Sandie Speedon added.
Both women wielded placards saying 'score tries not synthetic highs'.