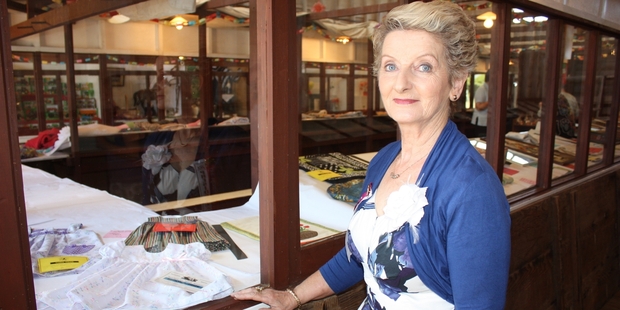 The historic produce hall at the Dannevirke A&P Showgrounds is no more - demolished to make way for a new, bigger, brighter and cleaner hall.
The old hall, built in 1916, funded by donations and debentures, had been home for the home industries section of the Dannevirke and Districts A&P Show. But with it's rafters coated with bird poo and the paint peeling, it was time for a new hall, A&P president Brian Beale said.
"The hall has been demolished with the help of community service workers [from the Department of Corrections] and work will begin on its replacement in November," he said. "We use the community service workers quite a lot and we would never have got the hall down without them. They came and stripped the building and did a fantastic job. I know they're having to do community work as a requirement of their sentence, but they've done a great job for us.
"The demolition went to plan and we're hoping to have our new hall built by Christmas, which will give us a month to get the interior done before our annual A&P Show in February."
Mr Beale said the new hall at 20 metres by 18 metres is fractionally bigger than the one it replaces.
"It will be a lot lighter, cleaner and more user-friendly and we're building it with the intention of being able to let it out for other functions," he said. "When all the show staging is dismantled it'll be a great hall for hiring out.
"The old building was nice, but it was past it and I know everyone had special memories, but when we were pulling it down we found it was in a far worse state than we thought. The borer was holding hands."
Pam Henricksen has been involved with the home industries section of the Dannevirke A&P Show for 29 years and while she has plenty of memories of the old building, she said it's time to look forward not back.
"We've had thousands of displays of fruit, veges, cooking and children's and adults handcrafts as well as the Women's Institute's show courts, but it's time for somewhere new to house our annual exhibition," she said.
However, one group of regulars who won't be welcome back into the new hall are the birds who nested in the rafters.
Dannevirke company Mitchell and Greatbatch will build the new hall which will be a great asset for the A&P Association which is in a good position at the moment, Mr Beale said.