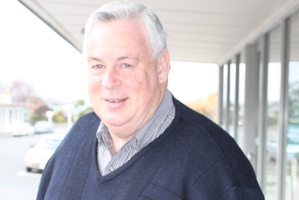 Dannevirke's Jim Crispin left the Tararua District Council with unfinished business, now he's standing again to finish what he started.
"I had to stand down from council in 2004 because my life was so busy," Mr Crispin said. "But I always felt I'd go back and now it's time.
"With our retail sector facing the toughest times, I'm determined to attract new businesses to town. I'm hell of impressed with our current council, they've got the fundamentals right."
One of the most worrying things for him was seeing the farming sector struggle.
"I've lived here since 1989 and have experience in facing tough and challenging decisions and I'm very concerned with the underlying fundamentals which are challenging the survival of our community."
A trustee on the Scanpower Consumer Trust, Mr Crispin said he had seen good things happen at its Oringi Cool Store site, with new jobs created, and he was looking forward to more exciting developments.
"Engineering company Metalform is a jewel in our crown and I'm staggered by what they've achieved in the last couple of years," he said. "Importantly, they've done it by themselves."
The Kiwi Sock Company at Norsewood, partially owned by Scanpower, was an example of how a business could turn around.
"General manager Wayne Russell is doing a fantastic job.
"I believe it's important our council gets stuck in and sows seeds the bring businesses and industry to the district. It's vital we get large businesses focused on considering a move here."
He was keen to take a leadership role in council-driven initiatives in order to create the right conditions for attracting businesses to the district.
"The present times are as challenge as any our district has faced for many years and we can't rely on market conditions improving. We need to use our own endeavours to make it happen and our farming district needs all the support council can provide, for example, roading and moderating the Resource Management Act."