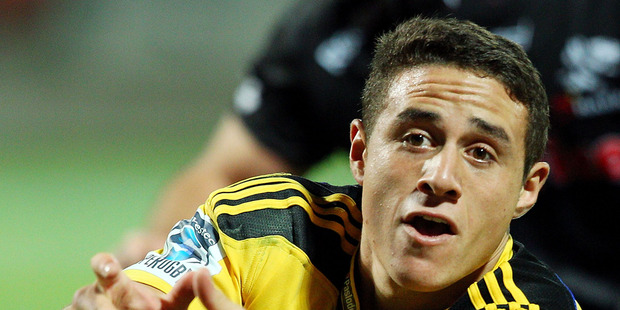 Steve Hansen's cautious approach with TJ Perenara is understandable and may prove to be the right path in the long run. But....and it's a but that keeps nagging away, maybe it would be better to go entirely on gut instinct on this one and say Perenara is one of those players who should be just chucked into the fray now. Why wait?
So what that he's only 20 - there's the good enough, old enough adage and more pertinently, there is the evidence being presented each week by Perenara that screams out. This kid is magical - the best No 9 in the country.
He's so raw and instinctive that opposition defences don't have a clue how to handle him. His game has multiple parts to it: he can pass, he can run, he can kick and he can pull off the impossible. He has the uninhibited confidence of youth and doesn't worry about making mistakes.
He plays with energy and spark. He's maybe a little cocky but any halfback who isn't probably isn't worth picking.
Hansen is obviously worried that at just 20 and in his first Super Rugby campaign, there is a danger Perenara could be over burdened. He's already played a lot of high intensity, physical rugby this season so far and there is a long way to go yet.
If Perenara was involved in the June tests maybe he'd hit the wall at some stage later in the season - be a busted flush by the time the end of year tour comes along.
Maybe - there is indeed a chance that could happen. But the gambler's instinct kicks in and says it's a risk worth taking.
Young men always have the capacity to surprise. Perenara appears tough. He's 94kg and fit - he can look after himself. It does seem a bit odd that the All Blacks are worried about Perenara's ability to handle the physical demands of the season and yet have no such qualms about Piri Weepu.
Perenara is in prime physical condition. Is Weepu? And that's the question the selectors won't be able to avoid for much longer.
Hansen is backing Weepu to come good for the All Blacks. That's fair enough - Weepu has done this before - and the faith is not misplaced. When he's fit, Weepu can be influential and creative.
But he needs to deliver in the June tests. He can't survive on his reputation for a whole season. The pressure is on - Weepu, and indeed Andy Ellis have to deliver top class performances to stay where they are.
Not only is Perenara champing at the bit, but so too are Aaron Smith and Tawera Kerr-Barlow. It's the former, though, despite not being selected for the wider training squad, who looks irrepressible. Hansen says his time will come, but maybe it already has.