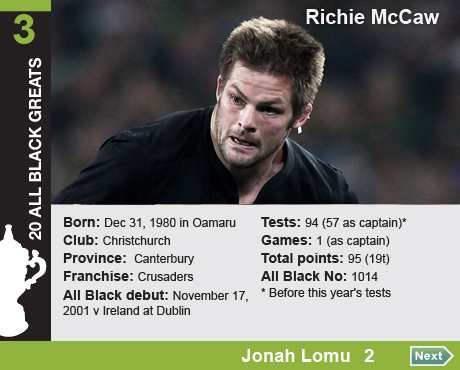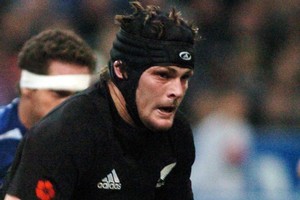 Captain's passion for rugby started early, writes David Leggat.
Richie McCaw first became acquainted with the All Blacks in 1987. It was World Cup year and down in Kurow, 55km inland from Oamaru, the then 7-year-old was gripped by the inaugural tournament.
"The first All Black games I remember watching were the World Cup games," he said. "I remember watching the final."
All of which is appropriate for the first man - health and fitness permitting - to lead the All Blacks into two World Cups and aiming to guide them to just their second title in the seventh edition of the cup, the first coming that day before a young pair of eyes 24 years ago.
Pick your top 20 greatest All Blacks of all time.
Back then it was all about fun with his mates, and for McCaw's enthusiasm for the game, for setting him on the path to where he is now - one of the pre-eminent players of this, or any generation - thanks are due to Barney McCone.
"I started when I was about 8 at Kurow and Barney coached us for about five years up to the end of intermediate," McCaw recalled.
"It was the only sport played in that town and we had a great wee team for those years.
"He had a huge influence on the way you play the game and he also taught me how to play as a team and that's where the passion came for rugby.
"And it was the way he taught me to enjoy the game."
Since making his All Black debut against Ireland in Dublin in 2001, before he had started a Super 12 game, McCaw's influence on the game - and on the national team - has been profound.
The phenomenal workrate, the crunching tackling, the savvy to know how the rules work as they relate to his gruelling role as openside flanker. Plus he's scored more test tries than any other All Black forward.
That's why he's without peer in the modern game.
But what of that first test. What does he remember? He was named man of the match in a game which looked to be going down the pan for the All Blacks. They were under the hammer for a time before prevailing 40-29.
Most vivid are two moments, before the start and afterwards.
"I can remember when the whistle went for the kickoff. It was a funny thought that at last I could call myself an All Black.
"But to think I was good enough and to know how to be able to play the game at that age [20] blows you away a bit."
That night, at the after-match dinner, came the presentation of his first test cap. Three were handed out that night, McCaw getting his with Canterbury teammates Dave Hewett and Aaron Mauger.
"I remember getting presented with that and everyone standing up for it. That's when it hit home. I thought 'wow, you're a test All Black'."
The name of the person who presented it to him is blurred; the event is not.
At the start of this winter, McCaw had played 94 tests, equal top of a celebrated group of 1108 players to have worn the black jersey, with fullback Mils Muliaina.
As McCaw put it, "the 10 years have gone pretty quickly". There have been so many stellar personal performances, so many occasions of which it can be vigorously argued that but for McCaw the match would most likely have been lost.
Not that you'd ever hear him make such a call. His is firmly a team-first ethic.
But pin him down to the one day when he felt he could have played no better, when he walked off and thought he had performed as well as physically possible, he settles for two matches.
"The second Lions test in Wellington in 2005 [won by the All Blacks 48-18]. After the game I was absolutely shattered. Of all the tests that's the one I probably look back on what I did [and think] that was pretty good.
"The No 10 had a pretty good one that day as well," he quipped in reference to his Crusaders chum Dan Carter, who scooped up 33 points in a stunning display.
There's another: the 13-9 win over the Wallabies in Brisbane the following year. McCaw was awesome that night and, as he succinctly put it: "That was a hell of a match."
So what does it mean, simply being an All Black, let alone one of the all time greats, and in a jersey previously worn by greats like Kel Tremain and Michael Jones?
"Nothing beats running out on the field in the All Blacks, when you look around at all the other guys. When I put the jersey on, I always take a moment to think about what you're doing and about the guys who've worn it before me, especially the No 7 jersey.
"It's something I'd never ever want to take for granted.
"It's a special club, these men in black. Talk to them and they appreciate how lucky they are to be in it.
"When you meet guys who have been there in times past it's a pretty cool thing. A lot of people want to be involved, but few get invited."
Pick your top 20 greatest All Blacks of all time.
Next Monday nzherald.co.nz will compare our experts' list with the public's.