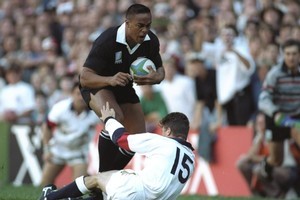 Jonah Lomu scored so many spectacular tries at his peak in the mid-1990s that deciding which was his greatest can only be a subjective judgment.
But the try which has come to most exemplify the extraordinary impact Lomu had on the 1995 World Cup came after just two minutes in the semifinal against England in Cape Town. Lomu scored four tries in this game and the first was not necessarily the most spectacular.
But it has become synonymous with Lomu's career. It has also become associated with television commentator Keith Quinn who, in attempting to capture the drama when Lomu stumbled over the line, was lost for words.
"People ask me about that try every day," Quinn recalls.
"It might not have been the best of the four tries he scored that day, but it is the best remembered by far."
It has probably stuck in everyone's memory because, coming so early in the match, it was a psychological killer blow for an England side, which after a win at Twickenham late in 1993 had become something of an All Blacks' bogey team.
It was an awesome display of Lomu's power and it might have altered the course of world rugby.
It undoubtedly hastened the arrival of professional rugby a few weeks later by providing its funding. Watching on television at the time was media mogul Rupert Murdoch, who is said to have exclaimed: "We have got to have this guy."
Extraordinarily, the try was planned, even to the point of Andrew Mehrtens cautioning referee Steve Hilditch where to stand because he intended to reverse his kick-off. That was duly botched by England's Will Carling and from the resulting scrum two rucks were set up to the right before the ball was moved to Lomu on the left.
The only hitch was that fullback Glen Osborne muffed his pass, but even that didn't stop Lomu's momentum as he shook off his marker Tony Underwood, ran past Carling and then strode over the top of England fullback Mike Catt as he stumbled over the line.
There was also an element of luck.
"It was very tough to keep my balance and, truth be known, if Catt had been one step back I would have fallen in front of him; in a way he kept me upright till I got to the line," Lomu recalls.
Catt became almost as famous by acting as Lomu's doormat.
"I was thinking, do I jump up and pull him down or do I do the traditional [tackle]? I thought I'll do the traditional tackle and he ran over the top of me. If he hadn't stumbled he would have run around me or side-stepped like he did three times after that. He was in amazing form," Catt says.
From his opening try it was obvious what the result was going to be and as well as Lomu's four tries the game featured a dropped goal by ZinzanBrooke.
The final score was 45-29, a margin distorted by two England late tries.
A more accurate gauge of the All Blacks' superiority was the fact that early in the second spell they had a lead of 35-3.
Quinn's lapse into incoherence as Lomu scored was due, in part, to his meticulous preparation for a commentary.
He had seen the phrase "all muscle and pump" in a description of an American basketballer and decided that if Lomu scored one of his tries it might be appropriate.
"I wrote the words down on a slip of paper, but in the excitement it fell off the table and all I can mutter as I scrambled to find it was 'Lomu ... oh ... oh'."
Great tries:
1960: 1960: Peter Jones vs South Africa
1971: Ian Kirkpatrick vs British and Irish Lions
1987: John Kirwan vs France
1995: John Lomu vs England
1997: Christian Cullen v Australia
2000: Jonah Lomu v Australia
Tries against the All Blacks