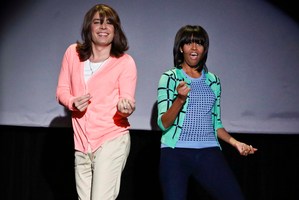 US first lady Michelle Obama is drawing rave reviews for her "mum-dancing'' with late show host Jimmy Fallon.
In a sketch that aired in the US on Friday night before a sit-down interview with Fallon to promote her 'Let's Move' campaign, the pair struck many an awkward pose during a performance entitled The Evolution of Mom Dancing.
The video was a spoof on the wildly popular Evolution of Dance video which went viral and has been viewed more than 200 million times on YouTube, according to MSNBC.
Fallon donned a pink cardigan and wig while busting a move with Obama.
They did all the signature moves before Obama went solo.
The first lady told Fallon that she frequently tries to embarrass her two daughters with her dance moves, and has a leg up on her husband, US President Barack Obama.
FULL VIDEO OF 'THE EVOLUTION OF MOM DANCING'

- GNE