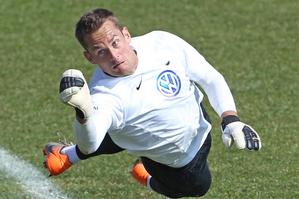 15/6/2010
KWA Maritane Resort,
Rustenburg
After travelling for just under two hours we arrived at the Royal Bafokeng stadium for our final training session before the biggest game of our lives.
There seemed to be a similar feeling to a match day as we laced up the boots in the sheds. Rory Fallon had the iPod pumping, Jeremy Christie was leading the chorus and the rest of the boys were pumped with energy. Trust me, it's not always the case after a long bus trip.
You could tell our minds were on the job even if it was only a captain's run, which is mostly free time for players to work on individual skills.
The 'keepers down one end, the midfielders at half way working on passing drills and the strikers at the other end shooting. Some will do more than others, a couple like to save the legs while others run some sharp drills to get the feel of the pitch.
We were pleased to hear that we're staying the night at the KWA Maritane, the same resort we stayed at for the Confederations Cup last June.
Being so far away from home it's nice to be in familiar surroundings. I'm hoping that playing on the pitch we used for two games last year will also give as an advantage tonight (11.30pm NZT).
On behalf of the whole team I have to thank everyone for their support. We will give it everything we have, not just for ourselves but for our country.
MOSSY