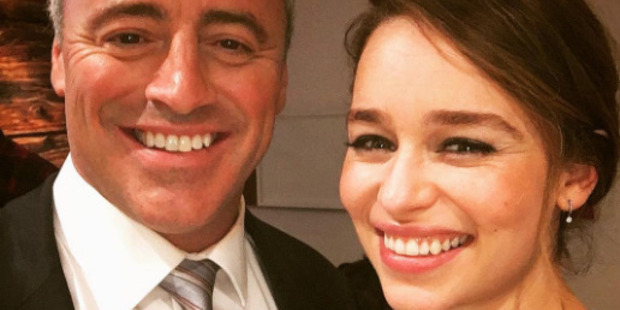 Matt LeBlanc incurred an awkward moment on the Emmy Awards red carpet when he joked about Emilia Clarke being naked - as she was listening.
While being interviewed at the awards ceremony at Los Angeles' Microsoft Theater, the former Friends actor admitted he has only watched the first series of Game of Thrones but is keen to tune in to further episodes of the HBO drama to see her nude.
During the Emmys coverage on E!, Jason Kennedy asked Matt if he watches the programme - in which Emilia portrays Daenerys Targaryen - and the replied: "Yeah, I saw the first season, and I kind of fell out of touch with it.
#Emmys: Matt LeBlanc wants to catch up on #GameOfThrones (since Emilia Clarke gets naked) https://t.co/2hCSOQmIzq pic.twitter.com/eymGW5u4of

— Hollywood Reporter (@THR) September 18, 2016
"I guess that's when she started getting naked, so I need to catch up."
Emilia was being interviewed by the show's co-host Giuliana Rancic at the time on a different section of the red carpet but heard Matt's comment and let off a slight smile.
While she seemed to laugh off the quip, fans of the 29-year-old actress were less than impressed with Matt's comment with some taking to Twitter to slam the actor as a "creep" and "disappointing".
Read more:
• Kiwi actress unlucky at Emmy Awards
• Watch: Jason Statham's push up challenge
One wrote: "Matt LeBlanc telling Emilia Clark he should start watching second season of GOT cause she starts getting naked is too much. Creep. (sic)"
Another posted: "Matt Leblanc said he needs to catch up on GoT because he likes Emilia Clarke naked? Very disappointing. (sic)"
Ew ew ew Matt LeBlanc being like "I need to watch Emilia Clarke get naked" while talking to her like...I'm uncomfortable

— Kyra Wolff (@kyra_kat) September 18, 2016
Matt LeBlanc talking about watching Emilia Clarke naked makes me all sorts of uncomfortable. #Emmys

— Emily Schuman (@byEmily) September 18, 2016
One tweeted: "Way to creep a gal out Matt Le Blanc (sic)"
Oh. My. God. Matt. LeBlanc. Ew. No. What the hell. Screw you. Gross. You owe Emilia such an apology. #Emmys

— Samantha Ania (@SamanthaSpice91) September 18, 2016
Every woman ever after #MattLeBlanc said he only wants to watch #GOT cause Emilia Clarke gets naked #Emmys pic.twitter.com/bW8DWDAolU

— Kelli Boyle (@kellixboyle) September 18, 2016
It was a celebratory night for Emilia as Game of Thrones was crowned Best Drama for the second year running and broke the record for the highest number of Emmys ever won when the programme picked up its 39th accolade.
The fantasy show won 12 of the 24 prizes it was nominated for helping to beat the previous record of 38 held by sitcom Frasier.

- Bang! Showbiz