Ghislaine Kenyon tells Craig Sisterson about why she felt compelled to write a book about Sir Quentin Blake, the most renowned illustrator of our time.
The cardigan-wearing man stands in a cluttered studio in his West London flat, hunched over a lightbox, pen in hand. He looks like a kindly grandfather working on a birthday card. But as we move closer we see an image appear, pen swoosh by confident pen swoosh. Unique, yet somehow familiar; lines dance with life, bringing movement to a static page. It's a process that's been repeated thousands of times over many decades in this room.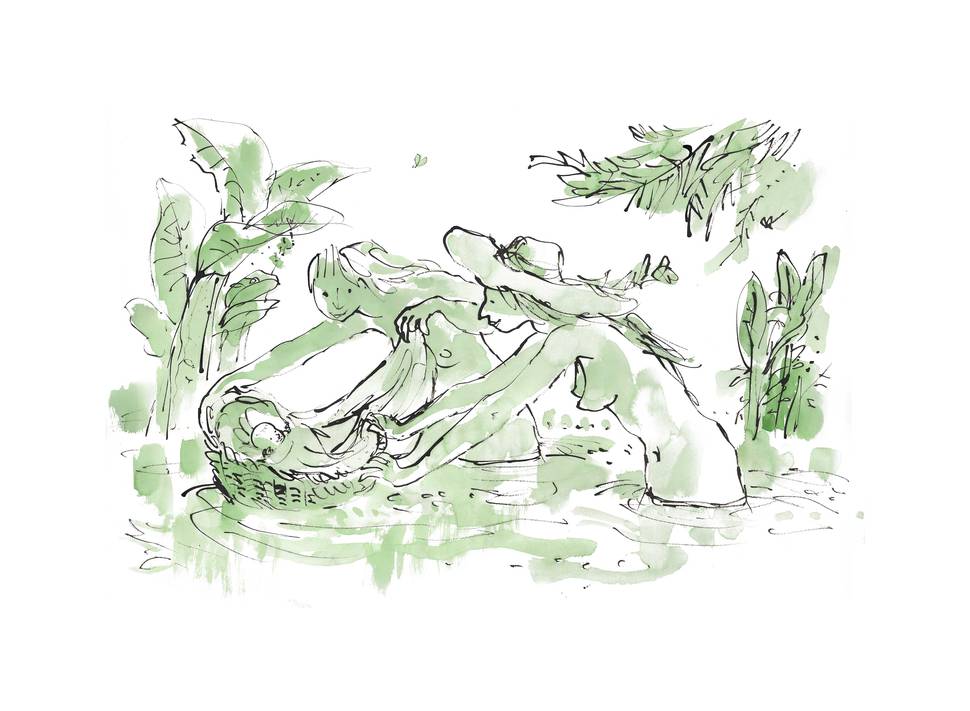 The kindly man isn't a grandfather, but he's brought joy to millions of children and adults the world over. Depending when we were watching, we might see the lines form a book-loving girl named Matilda, a Big Friendly Giant, a monstrous Grand High Witch, or characters inspired by the words of other beloved children's authors like David Walliams, our own Margaret Mahy, even Dr Seuss. For the man with the pen is Sir Quentin Blake, illustrator extraordinaire.
"He's an artistic genius, and I don't use that word lightly," says Ghislaine Kenyon, an art curator and educator who has written Quentin Blake: In The Theatre Of The Imagination, after knowing Blake for almost two decades.
"He can do whatever he wants with the pen, and combines that with imagination and creativity. That's what art is about, total technical competence plus seeing things differently; seeing the humour in a situation, the pathos, seeing yourself in it."
Kenyon is no dispassionate biographer. She makes that very clear as we chat in her lounge near Hampstead Heath. We're framed by an entire wall filled with books, much like Blake's home studio, but Kenyon has always been most passionate about visual arts. "I'm very admiring of Quentin," she says. "I'd never wanted to write a book, but I did want to write this book, because it's a combination of a lot of things that interest me."
In The Theatre Of The Imagination is a fascinating work about a fascinating man who shot to fame thanks to collaborations with Roald Dahl, but has done so much more. It isn't a biography, Kenyon emphasises.
"I feel biography is a presumption, on anyone living or dead. I can't answer all the questions about him because I can't be in his head. This isn't chronological, it's thematic and it's episodic. A big focus is on his work and how it's received by audiences."
Kenyon casts a cultured art lover's eye over Blake's oeuvre. Readers witness him at work; see what he draws, how he draws, and "the way everything in his life seems to link up through his pen". There are some biographical details, noting Blake's unconventional pathway as an artist.
He'd always loved to draw, and had early sketches published in his school magazine, but he studied literature at Cambridge rather than going to art school and has a teaching background.
It was Kenyon and Blake's shared passion for the educative power of visual arts that first brought the pair together in 1998. They worked on projects and exhibitions at the National Gallery during Blake's time as Britain's inaugural Children's Laureate, then later on further "off the page" projects as Blake created art for hospitals in France and England.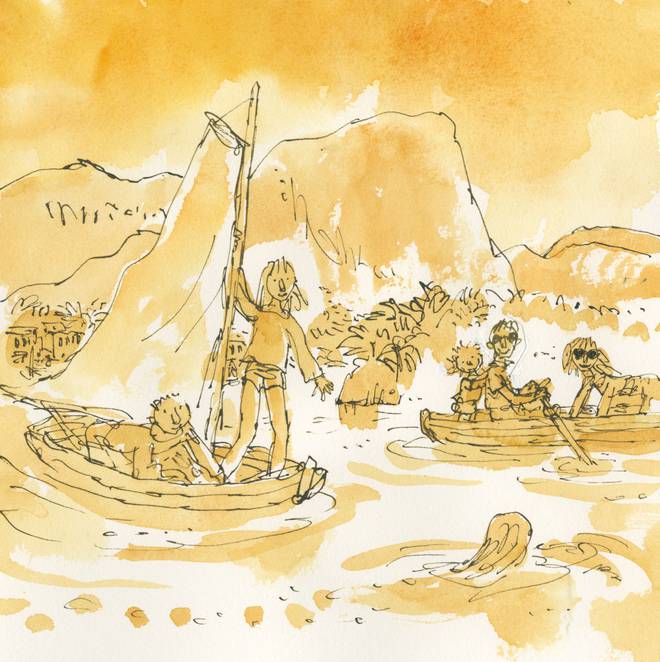 "That was when I decided I really wanted to write the book," says Kenyon. "The idea of an artist who doesn't just stand still; who doesn't just do the work people expect. I remember he did work for a dementia ward and I saw how he could put himself in the patients' shoes. I thought that was very different to what you usually see in hospital artwork, and it tied in with my work about audience experience. In a way for an artist, it's the ultimate audience: locked up in a ward, not in a great state and how art can work and help even in those circumstances."
Blake's ability to immerse himself wholly in his creations is one of the things that makes his illustrations special, says Kenyon. "I think he just has this tremendous, total empathy. He's very instinctive. I've seen it in live drawings that come from his own imagination or told to him by another person. He has an understanding of where you might be. It's not like he'd sit there and just listen to you talking about your troubles, but he shows empathy through his drawings."
Blake's recognisable style, jam-packed with wry humour and dashes of absurdity, has graced the pages of more than 300 books, including 35 he has written himself. He won the Greenaway Medal for Mister Magnolia, while other works like Zagazoo, Angel Pavement, and Mrs Armitage are beloved in Britain, even if they haven't had the mega-seller impact of his collaborations with Dahl.
Now 83, Blake is still drawing, still full of ideas, although in recent times he's focused more on his own projects than illustrating for others. "For him to illustrate anyone else's book now it would have to be very exceptional," says Kenyon. "So lately that has only been David Walliams' first two books, and Russell Hoban's last children's book."
Another exceptional project, and his first book for a few years, is a newly discovered Beatrix Potter story, The Tale of Kitty-in-Boots, which will be published in September.
Blake collaborated with many writers during his long career, but a handful stand out, says Kenyon. Along with Dahl, Walliams, and Hoban, Blake particularly loved working with Joan Aiken and Margaret Mahy.
"Those writers were the most important to him."
Blake illustrated Mahy's The Great Piratical Rumbustification and Nonstop Nonsense, and "absolutely adored her work".
Even though he is famous as a children's illustrator, one of the reasons people love Blake's drawings, Kenyon believes, is that he doesn't overtly draw for children. "He draws the situation he wants to draw, and knows how to make it age-appropriate. He never draws down to anyone" - while optimism is another palpable thread.
"He has a belief in the better side of being human there in his work," says Kenyon.
"He's aware of the darker side, but he's hopeful. His illustrations sort of call out and bring forth people's better nature."
Blake has even admitted he consciously tried to mitigate Dahl because, she says, some of Dahl's tales could be very dark, almost too gruesome for children.
"For example, Revolting Rhymes. Quentin distances them from reality in the drawings, brings out the humour, and minimises the gore. He and Dahl were very different people in personality and outlook on life, even though they worked together so very well."
Quentin Blake: In the Theatre of the Imagination: An Artist at Work by Ghislaine Kenyon (Bloomsbury $54) is out now.