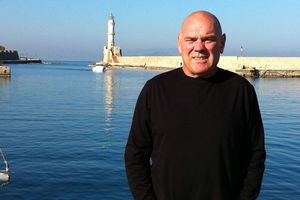 Before I begin I would like to say that while Danny Morrison's cricket commentary is most certainly a crime at least it's not murder.
Murder was however the subject of TV3's Family Secret, the slick new show that follows David Lomas as he tries to solve a cold case of some sort.
Lomas has form at this sort of thing as the man behind the successful and often incredibly moving Missing Pieces series. The man is a good storyteller with a touch of true-crime tabloid showmanship that you find on the Crime and Investigation channel. "Sex lies and murder at the farm gate" indeed.
Lomas seems to be based in some sort of swanky Parnell apartment that looks out to sea as he sits and listens to his answerphone message while he paces about. "Hi this is Sam Howard calling and I'm calling on behalf of my mother Jessie Black. In 1936 her uncle was murdered and no one has ever been convicted. Can you please help us?" So far so Ray Donovan, as he flicks through photos and ponders the call. "Did the murder have anything to do with her uncle's arranged marriage to an 18 year old Maori girl and why was no one charged?"
Lomas hits the road and picks up Sam, the grand niece of the dead man in what could best be described as a drive by interview. There's no sitting around on this show, everything moves, and everything looks beautifully framed with the care that's reminiscent of drink driving adverts. Sam only knew what her mother told her but she wants to get to the bottom of the story. The mother, Jessie, passes away during filming, but Sam's daughter Alicia flies in with a video on her iPhone of the mum on her deathbed talking about the murder of her uncle. "Why was no one was ever charged?" she asks as she lies dying.
At an Archive NZ research room Lomas gets to snoop through the boxes of files pertaining to the case. He got special permission because "usually there's a 100 year restriction on access to the files." This also allows for a bit of chin stroking and iPad touching (there's a lot of tech in the show) before jumping on another plane and hooking up with Sam and Alicia and taking them to scene of the crime in Hokianga. "I have a photo here and it does show the body, are you happy to see that?" he asks gingerly. Naturally we have to wait till after the break, but the women are up for it.
There's unintentional comedy too as Alicia and Sam read out a statement from the dead man's young wife, who was kicked out of his home by an "overbearing housekeeper" and shacked up in a nearby hotel where she seemed to be sleeping around on the soon-to-be dead man. Speaking of another lover she wrote;
"He had a sexual connection with me which means he gave me a poke." Alicia begins to lose it as she reads this and completely cracks up when she reads the next line, "After a while he gave me another poke." Alicia and Sam understandably found this amusing as Lomas loomed, stony faced, though no doubt realising he had TV gold on his hands.
The show is somewhat in the style of Who Do You Think You Are, with facts seemingly revealed as the journey unfolds. There's no shortage of padding but here it's done in the best possible way because it never bores us. Reality show sound cues are possibly over used. When cold-case author Scott Bainbridge comes on the scene to pass on his research the line "the real twist in the case came when they found out Jane was pregnant" is met with a DONG, like on The Block when the bench top doesn't quite fit.
Another statement from the dead man's child bride is discovered, and implicates one of her lovers, a man called Pape.
"This night I was asking Pape when he was going to kill my Nelson."
But he was never charged as the cops reckoned his alibi held up. Seems he was at home playing his mandolin with some mates. The 1930s in Hokianga was an intriguing place.
This is primetime TV so we always know where we are, recaps are frequent and it has to be said, welcome.
"The 1936 murder of Ernest Nelson not only involves sex and the inheritance of a farm but also race."
Jane, Maori to Ernest's Pakeha, was the 18-year old beneficiary of the dead man's estate, worth millions in todays money. She was undoubtedly involved, but her granddaughter was cagey when confronted by the man who had turned up to make an entertainment out of her family history. Her answer was illuminating.
"The police didn't understand that the elders normally sorted it out and they decided what was to happen and not anyone else." Lomas replied with a tabloid headline.
"So this is still a valley of secrets?" The woman, who looked as if she was not used to being talked to by a headline, muttered "possibly."
If it had ended here it still would have been an ok show, but there was more to come, and it was solid stuff. Lomas had a text from the daughter of Jane. Ringa was her name and she was here with her daughter and another relative, standing at the far end of the graveyard Lomas had taken Sam to for the big reveal. "They believe that Jane had wronged your family and it's been haunting them for years."
The show ended with one of the most emotionally affecting moments I've seen on TV for quite some time, as Ringa hugged it out with the grand niece of the man killed by her mum's boyfriend all those years ago. And because Ringa had no idea who her dad was, it's possible, that he was the killer. Finally I had found the sublime to match the ridiculousness of Danny Morrison.
Family Secrets, TV3, Wednesdays 7.30pm