He's still gigging at 78, but topping the Hot 100 nearly killed Barry McGuire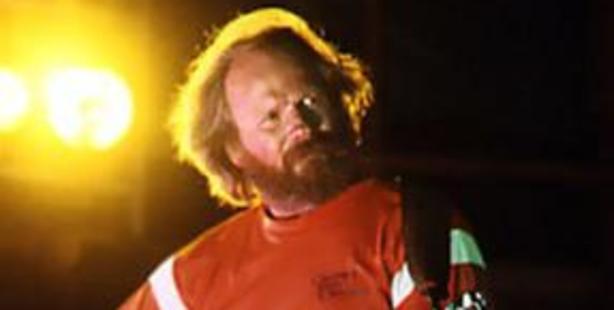 Strange things, these # 1 hit singles on the American Billboard Hot 100.
The first ever # 1 was in 1958, a song called Poor Little Fool, which became prophetic for many artists who followed Ricky Nelson to top of the charts.
No slight on Ella Yelich-O'Connor's achievement in gaining the 1030th Billboard # 1 since then.
Ella is a huge talent, so far with every sign of keeping her feet firmly planted on the ground.
But the honour of topping Billboard did little for a previous neighbour of mine.
Back in 1965 Barry McGuire's world-wide hit, Eve of Destruction, was also prophetic - first and foremost because it almost destroyed him.
For those who came in late, Barry and his New Zealand wife Mari lived in New Zealand for more than six years. Barry has performed here since the 1970s, including a nation wide tour with 20,000 New Zealand school children in hundreds of "Kids for Kids" charity concerts.
He and Mari built a home in Whangaparaoa.
In 2005 the elderly American was forced out of New Zealand on a legal technicality. The Department of Immigration claimed that since he'd had a pacemaker fitted, he could possibly cost the country huge dollars. It was a bitter blow for the couple who had invested so much of their lives here, but they've had the last laugh.
As Barry's 78th birthday approaches (on October 15) he is touring his "Trippin the Sixties" show to enthusiastic audiences across Europe, which isn't bad for an old bloke feared to be on the brink of costly incapacitation.
But getting back to Eve of Destruction.
Barry told me he has no view of Ella's musical career, "as I don't listen to much radio these days."
But looking over his biography, I think there may be a few lessons to share with the young star.
After joining the US Navy at 16 he was discharged a few months later when they discovered he'd lied about his age. Barry worked along the California Coast on fishing boats, and later in the building trade as a pipe fitter.
The folk music craze hit with a bang, and the cocky youngster discovered his few guitar chords, gravel voice and showmanship could easily get him nightclub gigs.
Barry cranked pipes together during the day and gigged all night, till being fired for sleeping on the job.
He was snapped up as a foundation member of "The New Christy Minstels". The folk super-group soon featured Barry singing Green Green, a song he'd co-written with Randy Sparks, which became a world-wide hit.
But after belting out Green Green for several years, Barry yearned for more meaningful material. He quit the group and went looking for some new songs to sing.
Barry went to Ciro's in LA to see his old friends Roger McGuinn, David Crosby and Gene Clark, whose band the Byrds, was celebrating the release of their single Mr Tambourine Man.
Bob Dylan was there, and so was producer Lou Adler. During the show, Barry saw a guy on the dance floor just bopping up and down while looking up at the ceiling. He thought that looked like fun so he decided to try it out himself, and went bouncing around the dance floor.
Lou Adler spotted him and said, "Aren't you McGuire?"
"Yeah."
"Well, are you singing?"
"No, I'm dancing!"
"Would you like to be recording?"
"Yes, I'd love to be recording."
Lou said: "Come over to my office next week. I've got some tunes I think you might like."
Lou had written songs for Sam Cooke and had been one of Jan and Dean's managers.
He introduced Barry to Phil Sloan, who was writing songs born from an overwhelming sense of frustration, disgust, and outrage at the system. Barry was ready to start singing songs that reflected these ideas and feelings.
"When I left the Christys," Barry says, "I left looking for answers . . . Eve Of Destruction was just the next step down that road. I wanted to sing about social hypocrisy, and I thought that's what Phil had captured in his song. All the problems, but no answers."
Unlike the cheery tunes of the Christys, Eve of Destruction was a grave warning of imminent apocalypse. It expressed the frustrations and fears of young people in the age of the Cold War, Vietnam, and the arms race.
Barry signed with Dunhill and began recording with Phil Sloan (guitar, harmonica and co-production with Adler), Larry Knetchel (bass), Tommy Tedesco (guitar). Barry played guitar and percussion.
Sometime between July 12 and the 15, they recorded Eve of Destruction in one take.
There were 10 minutes left in the recording session.
Barry recalls: "I got out my lyrics that that had been in my back pocket for about a week. I smoothed out all the wrinkles, then we wrote the chords down on little pieces of a brown paper bag that somebody brought some sandwiches in, and we folded little creases and hung them on all of the music stands. The guys went through it twice and the engineer said, "We're running out of time, lets cut this thing."
So they were playing and I'm over in the corner reading the words off this wrinkly paper.
People have said, 'Man, you really sounded frustrated when you were singing'. Well, I was. I couldn't see the words."
I wanted to re-record the vocal track, and Lou said, 'We're out of time. We'll come back next week and do the vocal track.
But by the next weekend, the tune was released. The following Monday, it was being played on the #1 rock music station in Los Angeles, and just exploded. Eve of Destruction soared to #1 in both the Cash Box and Billboard charts.
Composer Phil Sloan: "The media frenzy over the song tore me up and seemed to tear the country apart. I was an enemy of the people to some and a hero to others, but I was still only 20 years old.
"The media headlined the song as everything that is wrong with the youth culture. First, show the song is just a hack song to make money and therefore no reason to deal with its questions. Prove the 19-year old writer is a communist dupe. The media claimed that the song would frighten little children. The United States felt under threat. So any positive press on me or Barry was considered un-patriotic.
"It ruined Barry's career as an artist and in a year I would be driven out of the music business too."
On the right wing, a group called The Spokesmen released an "answer" record called, The Dawn of Correction, and a few months later, Barry Sadler released Ballad of the Green Berets.
On the left, musicians who had been writing and singing protest songs for years were unhappy a kid who wrote surf songs and a former member of the Christys had found success with a protest song of their own.
But Barry looks back now and thanks God that the reaction to kept him from further fame and fortune.
"I came up with some great tunes after Eve of Destruction, but none of them made the charts, and I couldn't figure out what was going on. But I'm sure glad nothing happened, because I would have been a longtime dead by now."


* Barry went on to play the male lead in the rock opera Hair and made movies, including a biker exploitation film he describes as "a piece of trash". He developed a major drug habit but turned things around after surrendering his life to Christ. His gravel voice became synonymous with Jesus People music of the 1970s and he has recorded numerous Christian, and pop-folk albums since then.
- nzherald.co.nz