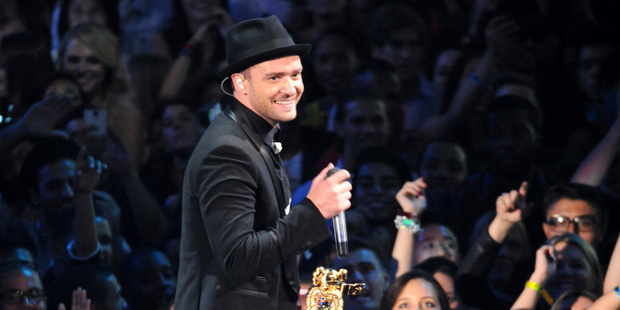 Holy unlikelihood!
Justin Timberlake doesn't just support Ben Affleck's contentious casting as Batman in the upcoming Man of Steel sequel, he wouldn't mind a piece of the action himself.
But not as a superhero...much less a superhero's sidekick.
Speaking to US radio station Fresh 102.7's Jim & Kim Morning Show last week (via E! News, Timberlake, 32, divulged his aspirations to play the role of his "favourite villain" - The Riddler.
Asked whether he would be up for playing Robin to Affleck's Batman in director Zack Snyder's Batman vs Superman flick, Timberlake said he had nil interest.
"Not a chance in hell," he said with a laugh. "I ain't playin' Robin. I have no aspiration to ever be a superhero in a movie."
He continued: "Now, a villain! I'll tell you the villain I want to play more than anything - because I grew up loving Batman - funnily enough, is The Riddler.
"The Riddler is my favourite villain. The Riddler was like a sociopath. He was proper crazy. So if I'm gonna play crazy, I wanna play proper crazy," he said.
"I'm ready. The Riddler. Gimme a call!"
The Riddler was previously played by Jim Carrey in 1995's Batman Forever, which starred Val Kilmer as the brooding superhero.
Timberlake also dished that he was looking forward to seeing his Runner, Runner co-star as the Caped Crusader.
"Ben Affleck as Batman. I like it," he said. "I worked with Ben last summer and I've seen his process. I think he's a brilliant filmmaker. I think he's an extreme talent so he could surprise a lot of people."
Snyder revealed at the Comic-Con event in San Diego in July that Batman will join Henry Cavill's Superman in a movie - rumoured to be titled Batman vs Superman - which is slated for release in 2015.
Warner Bros announced last month that Affleck, 41, is set to take over from Christian Bale as Batman.
Chimed the studio's creative development president Greg Silverman: "We knew we needed an extraordinary actor to take on one of DC Comics' most enduringly popular superheroes, and Ben Affleck certainly fits that bill, and then some. His outstanding career is a testament to his talent, and we know he and Zack will bring new dimension to the duality of this character."
Added Snyder, per The Hollywood Reporter: "Ben provides an interesting counterbalance to Henry's Superman. He has the acting chops to create a layered portrayal of a man who is older and wiser than Clark Kent and bears the scars of a seasoned crime fighter, but retain the charm that the world sees in billionaire Bruce Wayne. I can't wait to work with him."
Almost immediately after the announcement, the internet was ablaze with some pretty strong reactions to the casting.
Thousands also signed an online petition protesting the casting, asking Warner Bros. to "remove Ben Affleck as Batman/Bruce Wayne in the Superman/Batman movie," claiming he "won't do the role justice".
But at least Matt Damon has Affleck's back.
During a recent interview with The Times of India, the Elysium star weighed in on the controversial casting decision, and had nothing but words of support for his long-time friend.
"I think it will be great. It will be terrific," Damon said. "I know there are a lot of people grousing on the Internet. I just think it's kind of funny. You know, he's not playing King Lear. It's Batman! Certainly within his skill set.
"If anybody saw Argo or The Town, and all the work he's been doing lately, it's way more nuanced and interesting and way more difficult than Batman! Batman just sits there with his cowl over his head and whispers in a kinda gruff voice at people. Bruce Wayne is the more challenging part of the role, and Ben will be great at that."
But don't expect Damon to sign on to play Robin.
"I am a little older than Ben. I never saw Robin as older than Batman," he said. "Somebody sent me a picture actually (of his face Photoshopped on Robin's body and Affleck's on Batman's). It was really funny. But it's safe to say I won't be Robin."
Morgan Freeman, who played Lucius Fox in Christopher Nolan's Batman trilogy, also chimed in on the casting news.
"My first reactions are 'Wow' and 'Good luck'," Freeman told USA Today.
He added: "After the trilogy, I thought that no one would try it again for a few years more to let this whole thing die down. Because it's still there. So I don't know, I hope Ben does well."
And even Michael Keaton, who starred as the masked superhero in Tim Burton's Batman and Batman Returns, has thrown his weight behind the casting.
Asked for his thoughts on Affleck as the Caped Crusader by scandal sheet TMZ, Keaton said: "It's going to be great, [Affleck] will be great."
Meanwhile, the filming location for the Superman/Batman crossover flick has been revealed - the superheroes are off to Michigan in early 2014.
NOTABLE NUGGETS
And finally ...
* Hold on a cotton-picking minute: Lindsay Lohan explains why she was a no-show at the Venice Film Festival.
* Pipe it down when Fiona Apple is tinkling the ivories, thank you: Singer tells yapping crowd to "shut the f*** up" during a gig in Tokyo.
* Martine McCutcheon on that time she puked on Simply Red star Mick Hucknall's dreadlocks.
* Ed Sheeran explains what Taylor Swift really meant by "shut the f*** up".
* "I think it's quite inappropriate" - Sorry Miley, he's had a dabble, but One Direction's Harry Styles isn't down with twerking.
* Lady Gaga previews another track off her upcoming album.
* Arnold Schwarzenegger shares a snap from the set of Expendables 3; an image that will soon take pride of place on Bruce Willis's dart board, no doubt.
* Harry Connick Jr. will be the third American Idol judge, booms The Hollywood Reporter.
* Here comes the bride! Actress Kate Bosworth ties the knot.
* Cher, is that you?
- Rumour Has It