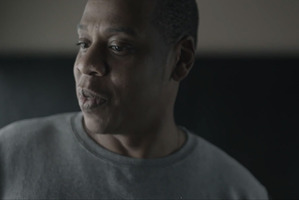 Despite starring in two videos being used in an advertising campaign for Jay-Z's upcoming album, superproducer Rick Rubin says he hasn't worked on the record.
Jay-Z's Magna Carta Holy Grail, his 12th album, is due for release on July 7, but Samsung phone users who download an app have access to it from July 4.
Rubin, who recently helped Kanye West pare back his sound for his acclaimed sixth record Yeezus, admitted to XXL magazine that despite starring in the ads, he didn't produce any of the songs on Magna Carta.
"The point of me being in the commercials was that he was filming a documentary and he asked me - I imagine he's just comfortable talking to me - to come listen to the songs with him and just talk about the songs. Just listen to it and talk about it, and that's what we did. It was fun."
The videos show Jay-Z in the studio with Rubin, alongside Swizz Beatz, Timbaland and Pharrell, talking about the making of the record. The rapper chockes up when talking about his daughter Blue Ivy.
Rubin told XXL he liked Magna Carta but admitted listening to it was "a little difficult" as he had recently worked on Yeezus - a more aggressive record.
"I liked what I heard, but it was a little difficult - after just coming from the Kanye sessions - to listen to Jay's album, because they're so different. I was in a very alternative and progressive headspace, and Jay's record is a more traditional hip-hop record."
Rubin has produced songs for Jay-Z before, most notably on the hit song 99 Problems.
- nzherald.co.nzbin