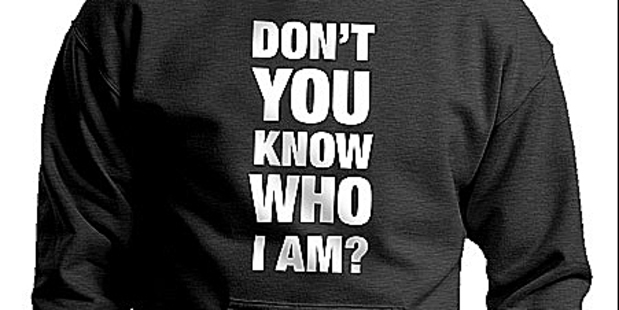 In a week of two narcissistic boasters, only one could ever win. And it wouldn't be Teutonic internet mogul Kim Dotcom and his 39-page white paper taking a swipe against the US Government.
Aaron "Do You Know Who I Am?" Gilmore was top dog in the self-aggrandising stakes. But his arrogance swiftly came back to bite. He apologised profusely for his behaviour in a stage-managed press conference, but leaked text transcripts with the frenemy contradicted his assurances to the boss and introduced a profanity and a superhero into the media vernacular.
Silly Gilly would become the laughing stock of Twitter.
"I enjoyed teasing Gilmore last week although it feels a bit tough sticking the boot in to a soon-to-be-jobless loser. Bring on euthanasia," guffawed TVNZ star Jesse Mulligan.
TV3's Jeremy Corbett was thinking extermination too. "We at 7 Days must sue Aaron Gilmore for making our show largely redundant".
Listener columnist Jane Clifton declared the Nat MP's career over-rover. "Aaron Gilmore's new question: 'Do you know who I was?"'.
Colleague Toby Manhire wrapped up the boobs in gag terms: "A dickhead, a f**ktard and Batman walk into a bar".
3 News reporter Tova O'Brien turned Gilmore into a verb - the action of telling untruths.
She tweeted: "'I don't work here sorry but I'm sure it's fine' - me to the lady who asked if she could try a bra on in Farmers. Should've Gilmoured."
Even savvy online shopping site 1-day got into the action yesterday flogging "Don't You Know Who I Am?" hoodies. A cultural memento for $29.99.
But it was Tory blogger David Farrar who provided the most apposite laughs. He declared, tongue-in-cheek, that the National List MP would seek a fresh mandate by standing in the Ikaroa-Rawhiti byelection on June 29.
"Mr Gilmore will be standing for the You Know Who I Am Party. They plan to contest all 70 seats at the next election. His co-leader is Ms Reese Witherspoon."
Woodhouse wants weed legalised
The founder of internet company Orcon asks why smoke synthetic weed when regular marijuana is "better and cheaper"? Seeby Woodhouse, 35, told The Diary the Government has its priorities around the wrong way when it comes to drugs.
"Unlike Bill Clinton, I have inhaled. And I'm sure the majority of New Zealanders have tried regular marijuana ... Alcohol is more harmful."
The North Shore multi-millionaire, who set up a carbon credit company to help reduce greenhouse gas emissions, said, like Sir Richard Branson, he's in favour of legalising cannabis.
"I'm not a big user. I'm a businessman, so I like my brain to be motivated, and marijuana chills you out ..."
Woodhouse says he hasn't tried synthetic weed, but has read some horror stories about its harmful effects. "It's definitely bad for you and it shouldn't be on the shelves."
He agrees with Branson (a member of the Global Commission on Drug Policy) and his stance that drugs should be decriminalised to allow the police to concentrate on other crimes. He says Portugal decriminalised drugs in 2001 and crime and drug use did not increase.
"The Government has got it wrong," Woodhouse says. "Alcohol is more harmful than cannabis."
"It reminds me of the bootlegging days in America, in 1929, when cocaine was legal but alcohol was not. Crazy."
Aunty Annie Labour adviser
At a Labour Party meeting in Brooklyn, Wellington on Wednesday, leader David Shearer was being effusive with the audience about the talents of "Auntie Annie", sources tell The Diary. It turns out, "Annie", or Annette King as she is more commonly known, is something of a wise counsel in the Labour caucus. Shearer said everyone goes to the MP for Rongotai for advice - including himself. There was a bit of a hush, however, when he said she'd also been Parekura Horomia's health adviser.
Queen of the hunt
From dancing to snowboarding, Hayley Holt's forever showing up the fairer sex. Now she's taken up hunting. The 32-year-old sports journalist and radio host, who's holidaying in Tonga, celebrated the first day of duck shooting season on Saturday with her 23-year-old boyfriend Pieter Holwerda. Donning fatigues and brandishing a gun, Holt looks set for action. She joked, however, "the ducks were safe".
Finn's a fan of X Factor
Liam Messam does it. So does Cory Jane and Piri Weepu. Anika Moa too. But it's Neil Finn who's leading the list of famous names narrating their way through TV3's X Factor. Finn's live Twitter commentary on Monday night possibly proved more entertaining than the show itself.
He criticised host Dominic Bowden's attire ("one word: wardrobe"), critiqued the commercials, defended evicted group Steamroller's mockery of the competition, applauded drag queen Ashley Tonga's diva exit speech, and wondered whether judge Stan Walker wears his shirt buttoned "because he is embarrassed about the writing on his neck".
Like it or loathe it, Finn's a fan. The award-winning musician, who turns 55 this month, is to X Factor what Joan Collins is to fashion: a pop culture bitch.
"I think it is possible to be funny without being cruel, but X Factor does make it harder," he tweeted. Truth is, Finn knows his music (his Crowded House hit Don't Dream It's Over was performed on the show) and online commentary have gained a whole new audience and he's happy to capitalise on it. On Tonga's culling from the competition and desire for a foot massage, Finn offered his own name-dropping twist:
"Ok, how's this. Kanye once had a foot massage in my studio but the girl, bless her cotton sox [sic], refused to do it under the table as he worked."