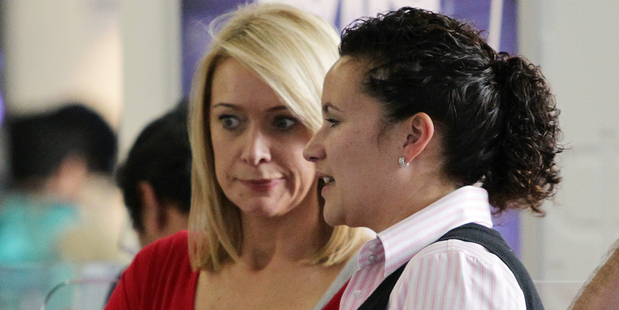 TV star Ali Mau wants the right to marry her girlfriend, Karleen Edmonds. The couple were nominated New Zealand's second most sizzling couple this week in an online Kiwi sex survey - right behind Dan Carter and Honor Dillon.
But Mau wants marriage, not coupledom, she said on Close Up this week, following a One News poll that said nearly two-thirds of Kiwis support same-sex marriage.
"It's a basic human right and it's not just an issue for New Zealanders," Mau said. "It's the fact that I could get married 15 years ago when I married for the first time ... and suddenly I can't marry who I want to marry now. And that seems odd and silly and outdated."
The Fair Go star, who was married to One News anchor Simon Dallow for 13 years before meeting Edmonds, says a civil union is not enough for gay people who want the recognition of marriage.
"Gay people use the same terminology about marriage, as far as I know in my limited experience, as straight people. The recognition of marriage is important."
She said the Civil Unions Act was not enough "because it still separates us from you or them, and in New Zealand we don't believe in being separated into different tribes. We're all one people. Why shouldn't we have the same rights?"
Mau said she was educated at a Baptist school, but she doesn't believe the church will win the debate against gay marriage. "The tide is against them."
Her ex-hubby, educated at Catholic schools, is yet to talk openly about his ex-wife's sexuality or his own love life.
PULLAR TO BLOW LID ON ACC
The police exonerated Bronwyn Pullar this week of claims she used extortion against the ACC at that infamous December meeting, but the government department maintains threats were made.
Bronwyn Pullar is to reveal what happened in the meeting in an exclusive interview with 60 Minutes on Sunday.
Pullar plays her trump card: the secret tape recording she made of that meeting. Excerpts from the tape - never before heard - will air on the programme.
"In it there is no suggestion she is trying to leverage a deal, or threaten them," reporter Melanie Reid told The Diary.
"The tape is truly a gotcha moment [for Bronwyn]. It makes you wonder how is it the bosses at ACC can back their report and those managers."
Pullar received an email from ACC with a copy of a file containing the private details of almost 7000 fellow claimants, setting off a chain of events which led to the resignation of Cabinet Minister Nick Smith and many official inquiries.
The findings this week from the police investigation reconcile with Pullar's version of events.
However, ACC's chief executive and chairman are standing staunch. ACC claims Pullar threatened two senior managers at that meeting. They did not realise she had recorded it - until afterwards.
"ACC know I did not threaten them, they know I did not do what I was accused of because the chief executive Ralph Stewart and the ACC board secretary heard the tape of that meeting with my lawyer on April 20," Pullar tells 60 Minutes.
If ACC felt there was blackmail at the meeting, why did it wait three months to complain to the police - and only after media stories of the privacy breach were made public?
"How could they send me a file with 7000 names in it and not be aware of it?" Pullar tells Reid.
Her concern about privacy issues at the department extends, too, to her own reputation, which she thinks has deliberately been discredited.
ACC says it is about Pullar and alleged threats she made at that meeting.
Pullar scoffs: "Then they obviously need a glass of milk and a cuddle".
MAORI JUBILEE BABY
Former East Coast sheep shearer Gary Lewis, 41, was seen enjoying himself at the Queen's Diamond Jubilee concert in the royal box, but his 34-year-old wife, Lady Davina was absent. The couple have welcomed a son, dubbed the Jubilee baby, the Sunday Telegraph reported this week.
"It's a boy, but we don't know his name yet," a friend of Lady Davina's told the paper. The couple also have 23-month-old daughter Senna Kowhai. Gary has a teenage son, Ari, from a former relationship.
Lewis, who married the Duke of Gloucester's daughter at Kensington Palace in 2004, is described in the British press as a "Maori carpenter". Much was made of his heritage when he became the first Maori to join the extended royal family.
The royal pedigree is a long way from where Gary grew up - on the family farm in the remote Matokitoki Valley, near Gisborne. His father was a former champion sheep shearer, his mother a former maid. They are grandparents to two children who are the great-great-grandchildren of King George V and Queen Mary.
Lewis, who hobnobbed with the Duchess of Cornwall and Prince Andrew at the Jubilee concert, has been warmly welcomed into the royal fold, but sources say his Kiwi relatives are under strict instructions not to blab to the media for fear of being excommunicated.
The young couple cherish their privacy. Lady Davina was snapped with her husband and daughter in March at the Gatcombe Horse Trials with good friends Peter and Autumn Phillips, the Queen's grandson and his wife.
SINGER IN HOSPITAL
Kiwi musician Jon Stevens is overcoming a serious bout of pneumonia.
The Montego Bay singer, who underwent a heart double bypass three years ago, was taken to hospital in Sydney this week.
But it is unclear if he had a glamorous bedside vigil. Stevens is rumoured to be in a relationship with James Packer's ex-wife Jodhi Meares, a swimwear designer.
FIRST DAUGHTER MEETS QUEEN
Stephie Key met the Queen at Buckingham Palace on Wednesday. The aspiring fashion designer, who is living in Paris, joined her parents, John and Bronagh, in an intimate family audience with the monarch where her dad came bearing cheese and jam.
The Prime Minister said Her Majesty asked to speak to the Key women.
"They had quite a long chat about what Stephie was up to and what she was doing," he said proudly.