Raybon Kan returns to the stage for a show about laziness - and why it has been a leading force in human affairs, writes Barney McDonald.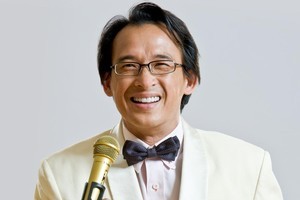 He's been a lawyer, newspaper columnist and quiz-show contestant, so it's no surprise that Raybon Kan, the most famous comedian to come out of Masterton, has a broad range of opinions.
At present, one of the subjects tickling his fancy is the proliferation of electronic media and the effect it is having on attention spans.
Kan, who has been out of the limelight for a while, is particularly intrigued by the concept of laziness, in all its intricacies and eccentricities. In contradictory fashion it has even inspired him to get off his backside and perform stand-up again at the upcoming International Comedy Festival. And in the spirit of showmanship, he's called his belated return to the stage Awesome $ecrets of Winning Thru £aziness (Or: What Would A Panda Do?).
"Laziness makes the world go round," he insists, with gusto. "It's so primal. There's a lot of truth in acknowledging the impatience and laziness we call 'standard of living'. Things that people thought were the height of easiness 30 years ago we can't be bothered doing now.
"An obvious example is how impatient we are about consuming media, especially the speed of the internet," continues Kan, warming to his theme like a man with too much spare time. "You'll be annoyed at a page loading up when it's still happening at the speed of light.
"But one of the things we've got to get rid of is guilt about laziness. It's an infinitely renewable resource and it's driven most improvements in humanity."
If all that sounds too serious for comedy, don't despair. Kan has a knack for spinning humour from observation. He's the thinking person's comedian who likes a good laugh, preferably at the expense of life's little oddities.
"If you can embrace it and be true to it, there are lazy shortcuts to everything," he reasons. "For example, just the idea of going from stairs to escalators. When even an escalator is too much trouble, you need to be hoisted up in a lift. The fitted sheet also springs to mind. How hard was it to tuck corners? Though, of course, there is the rewarding twang of elastic."
Technology has always been an entertainer's plaything. As innovations reach the market, comedians are as quick as anyone else to embrace a new medium to express him or herself and spread the message. As he's Chinese, Kan might be expected to be a little more savvy than most, though he appears as nonplussed as the rest of us about where it's all heading.
"I tweet and use the internet but I don't know where it leads us," he sighs in mock resignation. "What it does is devalue this whole world of content." And he finds Twitter bizarre. "It's like people screaming in a bar and no one's listening to anyone else. Why am I participating? Because I might miss out on something, and yet I'm not really paying attention."
If idle hands are the Devil's tools, Twitter at least must be keeping people busy and out of harm's way, I argue. Not necessarily, insists Kan.
"I think attention-span is the wrong term now," he says. "My attention doesn't span, it just flits. It's so hard to really care about things. And that's thanks to technology. Take Charlie Sheen, for example. I went from thinking he was hilarious to thinking he was sad in three days. Topicality is a losing game."
Facebook is equally perplexing to Kan, though he's certainly clocked its inherent contradictions. "It's voluntary data-mining. You might not answer a survey on the phone, you might shut the door to someone, but you're volunteering this stuff on Facebook, with photos!"
If we can return to the theme of his latest stand-up show without feeling exhausted by the effort, where does society's laziness and apathy leave comedians? And does the speed in which we consume, then discard, information make Kan's job a bit like spreading melted butter on molten rock?
"Well, I do find it harder to be outraged than I used to," he says. "When I started out as a comedian, there were some things I was outraged at, that are just great focal points for jokes. I wish I could get hold of the outrage that comes from being shocked but I think I've seen too much."
As for Kan's impending show, don't be surprised if he confronts the audience in a La-Z-Boy recliner. Or, better yet, a hammock. Perhaps he won't even show up.
"Maybe I'll just text the audience from home: 'I was gonna turn up to the show but I just couldn't be bothered'," he laughs.
Raybon Kan performs at the Limelight Laugh Lounge (Aotea Centre), Auckland on April 30 (preview) and May 3-7 and at Wellington's Garden Club from May 17-21. Tickets via The Edge or Ticketek.