Glee star Dianna Agron talks about the show and her move into movies with Michele Manelis.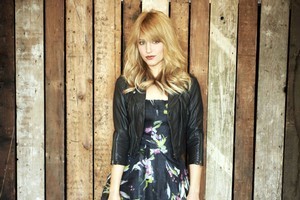 At age 24, Dianna Agron is the odds-on favourite to become the breakout star of the TV hit Glee - even if she will be playing the high schooler slash girl-next-door slash cheerleader for a while yet.
In the musical comedy series the blonde beauty plays Quinn Fabray, the cheerleader-turned-young mum. "I was never a cheerleader when I was in high school," she notes, though she played one pre-Glee in Heroes.
In her movie, sci-fi thriller, I Am Number Four, she's back at school as Sarah Hart, who finds herself in a battle between nine teenage humanoid aliens exiled on earth who are on the hit-list of a bunch of evil ETs. Fortunately, Number Four on that list - Alex Pettyfer - has the help of his growing superpowers and the support of Agron's Sarah. The Steven Spielberg-produced film should appeal to the Twilight generation - as did its source novel, a teen fiction best-seller last year.
How much has your life changed in the last year?
Actually, very minimally. I've been busy most of the year and I go to work every day. I feel really lucky to have a job. And with Glee, especially when you travel in groups, people pay attention. When I'm by myself I rarely notice a change. It's funny. I used to live in a hotel growing up. I remember one time the president of another country came, and there would be sports teams that would come regularly, so it was normal to see the dogs that would sniff the hotel, and security guards running around. You never think that you might need a security guard yourself.
Why were you living in a hotel?
I was at the Hyatt in San Francisco. My father was a general manager for about 25 years. My mum was very level-headed. She instilled in both my brother and I that living that way was not a normal circumstance and that we were not to take advantage of it. She always made sure we were well-behaved.
How did this role in I Am Number Four come about?
It was a full-circle cool experience. I have a really close friend at Dreamworks who's in casting. She said, "there's someone here I want you to meet, Steven". I didn't really know who she was talking about, and then she came back with him, and it was Steven Spielberg. He said, "there's this movie called I Am Number Four, and there's this great character, Sarah. I don't think you'd be available because we are filming in the fall, but I thought you'd be so great for this". I was just speechless. And I said something like, "we have to make it work". And it all worked out because they ended up shooting in the summer instead, when I have time off from Glee.
There's a lot of talk in the film about bullying in schools, and you addressed it in Glee as well.
Yes, we had a bullying episode. I think back on middle school, it was almost worse than high school. You're going through changes, you're still living in your parents' house but you want to have an identity. You're in a fish bowl, sometimes you see the same people every day who might be the ones that are picking on you, and you have to learn what's the best plan of action because you've got to get through X amount of years.
How was your own experience in high school?
It was average. It was some of the best experiences of my life, and the worst. And again, the downside of high school was people being mean and not working together. And yet, we would have days like, the beginning of every school year, a class would get together. Sophomores, juniors, and seniors would go in the auditorium and play bonding games to remind people there's a new beginning. And it was always met with reluctance, people were like, "oh, these games are so stupid". But at the end of the day, everybody was laughing and they have these sheets with your name or T-Shirts, and you would have to write nice things about that person.
How has the attention that comes with Glee changed you?
That's really easy for me. I haven't changed as a person, the things that I like to do or the places I like to go, or my friends, they have all remained the same. There's certain things that maybe changed, certain restaurants [where] maybe you shouldn't go if you don't want to be followed, or things like that, but for the most part, everything is the same.
I think people know too many things about actors these days, and then it becomes really hard for them to watch that person and not think about those things. Back in the day, you knew very little about the stars that you admired - Cary Grant, Audrey Hepburn. I think that maybe that would be a smart thing for many people to adapt to, because it can kind of bite them if they are not careful.
LOWDOWN
Who: Dianna Agron
What: I Am Number Four
When: Opens today
Also: Glee, screens 7.30pm Fridays, TV3
-TimeOut