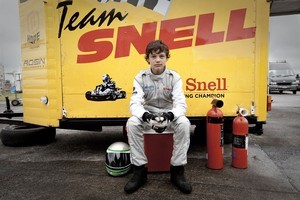 The director of a new film set in Auckland's eastern 'burbs and the world of go-karts tells Scott Kara about his inspiration behind the movie.
Although there is a fair bit of earsplitting engine action, and even the world's first love scene in an empty Para pool, The Hopes and Dreams of Gazza Snell is not an action-packed comedy about the world of kart racing.
It's more about Kiwi dad and karting obsessive Gazza (played by Aussie actor William McInnes) - who has big dreams for his two sons' racing careers - and his battle to come to terms with an accident that threatens to rip his family apart.
"People will go along expecting to see The Castle, and a little bit of Smash Palace perhaps, and it certainly has elements of both those but it is a surprisingly emotional tale," says director Brendan Donovan of his debut feature film following his work on TV series Insiders Guide to Happiness and tele-feature Aftershock.
And many people, especially Kiwi blokes, reckons Donovan, might see a lot of themselves in Gazza.
Although, it has to be said Gazza is pathologically pig-headed about his "hopes and dreams".
"For a guy like Gazza, to accept that his son is seriously injured is to accept that he will not survive. He's not a brutal realist. He's a dreamer. But what he comes smack up against in the film is the possible end of his dream to do something amazing for his family - and that is a very sobering obstacle to come up against in your life."
Set in Howick, where Donovan grew up, and also starring Robyn Malcolm as Gazza's wife Gail, the film is a tribute of sorts to 1981 film Smash Palace, which starred Bruno Lawrence as motor-racing driver and junkyard owner Al Shaw.
"It's my favourite New Zealand film," says Donovan.
Perhaps the most striking homage is a scene where Gazza's eldest son Marc goes on a reckless rip around the (almost) empty streets of Howick, similar to Shaw's crazed drive through the countryside in the film.
"And I definitely saw in Gazza a bit of the Bruno Lawrence role [and similar to Smash Palace] it's just a straight-up honest tale and the action is handled in a visceral way."
So are middle-class white guys hard to build a film around in New Zealand because they are a common breed?
This was one of the issues getting the film made because people would say, 'Well that's so boring doing it in the suburbs. Can you set it in some misty dark valley?'. But to say that is to say films like The Graduate and American Beauty, and the millions of other good films set in the suburbs, are somehow lesser. And the white middle-class guy has had a short shift in New Zealand films of late - they fell out of favour with the Film Commission I guess and probably because of the success of films like Whale Rider and Sione's Wedding - but it's just that I didn't grow up in South Auckland or a dark, misty valley. [laughs]
So what was Howick like when you were growing up?
It was pretty solidly white middle-class. In the 70s and 80s when I was at school it had its own mayor, Morrin Cooper, who was a good mate of my father's; the Santa Parade was a big deal; and you didn't really leave Howick that much. It was very self-contained and self-sufficient. And it went through this big cultural shock of a whole new group of immigrants coming in and building a new sub-suburb within it. That was totally fascinating for me when I came home after living overseas.
And while the film is set in the present there are still instances of, to quote Gazza, "ching chong" moments.
Oh yeah, I think there is an inherent soft racism in most of middle-class New Zealand and if I was to shy away from that it would be to shy away from the truth a little bit. And if the film's anything it's authentic; about the racing, and how people are in those types of suburbs.
Why go for an Australian actor to play a Kiwi dad?
We obviously looked for a New Zealand actor, and if Bruno [Lawrence] had been alive it would have been a prime role for him. We haven't quite replaced him yet with that sort of masculine [actor] with a sense of comic timing and a bit of warmth, in that 40-50-year-old bracket. And we've got some great actors but they just didn't have that unique combination of things that we were after at the time. And when you meet [William McInnes] he's basically half-Gazza already.
Why do you think these characters suited a feature film as opposed to a TV series or tele-feature?
The best films have been about ordinary people trying to cope with a pretty big event. So if the event had been a bit smaller, then yes it may have been more suitable for the smaller screen, but it's a massive event in this family's life.
The love scene in the empty Para pool has to be a world first.
When I was growing up my mate Tom's parents had a Para pool and in the film we were looking for a way to bring those two [Gail and Ron, played by Joel Tobeck] together and how could it be not just be about desperate needs or comfort in this moment, but also funny. Because the film does a lot of that, and even in the worst of times it's funny. The Para pool was kitsch and Kiwi but strangely fetish-like, with all that rubber around you.
I hear your dad ran for council without telling you or your mum, much the same as Gazza does?
Mum and I were driving down the main street of Howick and there was a big billboard of him. We were like 'Wow'. And I think that's another classic Kiwi male dad trait, which is, 'I think I'll just go and do that'. They are a certain breed: a little Peter Pan-ish, a bit blinkered. [At a test screening for the film] one woman stood up and said, 'He's just like my own husband. Thick, yet deep'. Which I think is true about some Kiwi males, that on the surface they're all about barbecues, but as a lot of our cinema has shown there is a very deep river that runs within most New Zealanders, and it's not manly to show that often, but it certainly exists.
LOWDOWN
What: The Hopes and Dreams of Gazza Snell
Who: Brendan Donovan, director
Opens: In cinemas today
-TimeOut