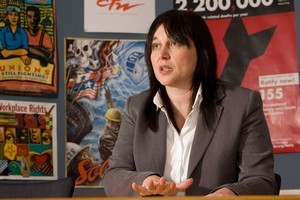 The Council of Trade Unions (CTU) is fuming at the Government for siding with Sir Peter Jackson's stance on the union dispute surrounding The Hobbit movies.

Last week, the Australian Media, Entertainment and Arts Alliance (MEAA), which New Zealand Actors Equity is allied with, said there had to be a boycott of the movies after the makers refused to enter a union-negotiated agreement.

Sir Peter and the studios countered that because actors were independent contractors, New Zealand law prohibited collective bargaining.

Arts, Culture and Heritage Minister Chris Finlayson said yesterday that the Crown Law Office advised that movie producers were prevented by the Commerce Act from entering into a union-negotiated agreement with independent contractors.

Mr Finlayson said the MEAA needed to note that New Zealand employment law was different to Australia's.

But CTU president Helen Kelly said the legal issues could be sorted out within days and were just a red herring from Sir Peter.

"The minister hasn't even talked to the union about what they want. He is basically siding with Peter Jackson when he should be facilitating talks between the parties."

It was a simple issue of a union seeking to negotiate with an employer which the CTU saw every day - only this time it had the glitz and glamour of the film industry, Ms Kelly said.

The MEAA claimed actors had been working under contracts providing no minimum guarantees of wages or working conditions, no residual payments and no cancellation payments.

Sir Peter has accused the actors' union of a power grab and warned that production of the two films could be moved from New Zealand to Eastern Europe.


"If he (Peter Jackson) moves the films...the unions are going to follow him. If they just talked then there are many things they could agree on and that's the pathetic thing about his approach," Ms Kelly told NZPA.

"Chris Finlayson as Minister of the Arts needs to get involved and get the parties talking. I don't care who the hero is but someone needs to get them together."

-NZPA