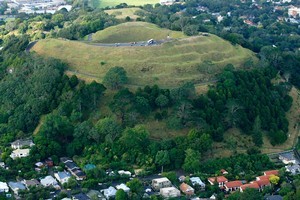 Aucklanders will be reminded that, like Christchurch, their city is built on a seismic hot spot when Eruption screens on TV3.
The 90-minute drama shows what a volcanic eruption in the middle of Auckland's harbour might look like.
The scenario is based on scientific reasoning that a hot spot 100km beneath the city could cause another eruption. Auckland is built around 49 volcanoes.
The most recent to erupt was Rangitoto, about 600 years ago.
Producer Dave Gibson, Gibson Group, said the company worked closely with specialists at GNS Science to create a feasible storyline with scientifically accurate computer graphics.
Its portrayal of what it would be like to alert media and evacuate the city was based on a real Civil Defence exercise imagining a volcanic eruption in Auckland's harbour, he said.
Eruption will screen during the Ministry of Civil Defence's awareness week from October 10 to 16.
Gibson said he hoped Christchurch viewers would not think it was too much too soon.
"Not meaning to be flippant but it might be nice for them to see people in another city coping with a different type of disaster,"
"[Seismic activity] is on the radar, so now the idea of a volcano in Auckland is intriguing," he said.
In 2008 Gibson Group produced Aftershock - a drama about the aftermath of a catastrophic earthquake and tsunami in Wellington.
Eruption follows several Auckland families in the days before a volcanic eruption.
Mark Mitchinson plays the lead character, Clive, an Auckland seismologist whose warnings fall on deaf ears and also threaten to break up his family.
Nicola Kanawa plays his high-flying wife who thinks she has bigger concerns than some volcanic activity, Anapela Polataivao plays a solo mother who is in hospital when the tremors hit and Te Kohe Tuhaka plays a radio host.
Get Ready Week
Eruption screens on Wednesday, October 13, at 8.30pm on TV3. Get Ready Week runs from October 10 to 16.
-TineOut