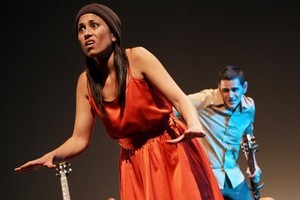 The Going West Books & Writers Festival kicks off its programme with an absolute gem: He Reo Aroha is an enchanting love story that does not shy away from soaring lyricism but manages to keep its feet firmly planted on the ground with some wickedly funny character studies.
Writers Miria George and Jamie McCaskill have come up with a sophisticated story structure that sees drama and song entwined like a pair of lovers. Vivid fragments of dramatic narrative create a patchwork setting for a sparkling anthology of original songs that drive the story forward and carry the swirling emotions of the piece.
Director Hone Kouka's inventive staging uses the simplest of means to achieve lightning-quick changes of setting as the drama flashes backwards and forwards in time while swinging between New York and the small rural community of Ti Kapa.
The performance area is defined by a semi-circle of musical instruments and physical theatre devices are skilfully employed to evoke a fishing trawler caught in a tidal current and the cat-and-mouse strategies of a pair of bickering lovers determined to avoid each other in a crowed pub.
The two-person cast of Kali Kopae and Jamie McCaskill are both extremely impressive vocalists who also demonstrate their acting chops as they take on a variety of parts that involve gender swapping and rapid aging.
The multiple roles are well handled with simple mannerisms and exaggerated vocal styles clearly defining each of the characters.
McCaskill is particularly adept at these character studies and brings the house down with his impression of a loquacious Maori orator and the hard-case queen who runs the local fish factory.
Kopae brings a wonderfully engaging vitality to her study of a singer who follows her dream to New York but returns home to work in a fish factory as she tries to re-kindle her lost love.
Her powerful singing voice nails the heightened emotions of the story and she displays a totally disarming candour.
* What: He Reo Aroha
* Where: Glen Eden Playhouse
* When: Until tomorrow